Did you say that you're planning to visit Tbilisi? If we've heard it correctly, that's an awesome decision! Why? Well, that's what we're going to discuss over here. We'll write about the ten best things to do in Tbilisi, Georgia's vibrant capital city. Is that the only reason for its popularity? Not exactly!
It's a destination housing treasure trove of historical and cultural attractions. You'll also find youthful crowds and friendly people around the city. Indeed, there're parks, pubs, bars, stunning nightlife, and great places to explore.
And what else?
There's a long list, and it's daunting to shortlist the top places from that. Don't worry! We've got a list of the unmissable attractions. We'll also mention the ideal tours and activities that you've book to make your travel memorable.
It's easy to navigate around; super-safe and cheap too. Thus, it emerged as an excellent travel destination. Let's visit then and explore the city's top attractions in detail.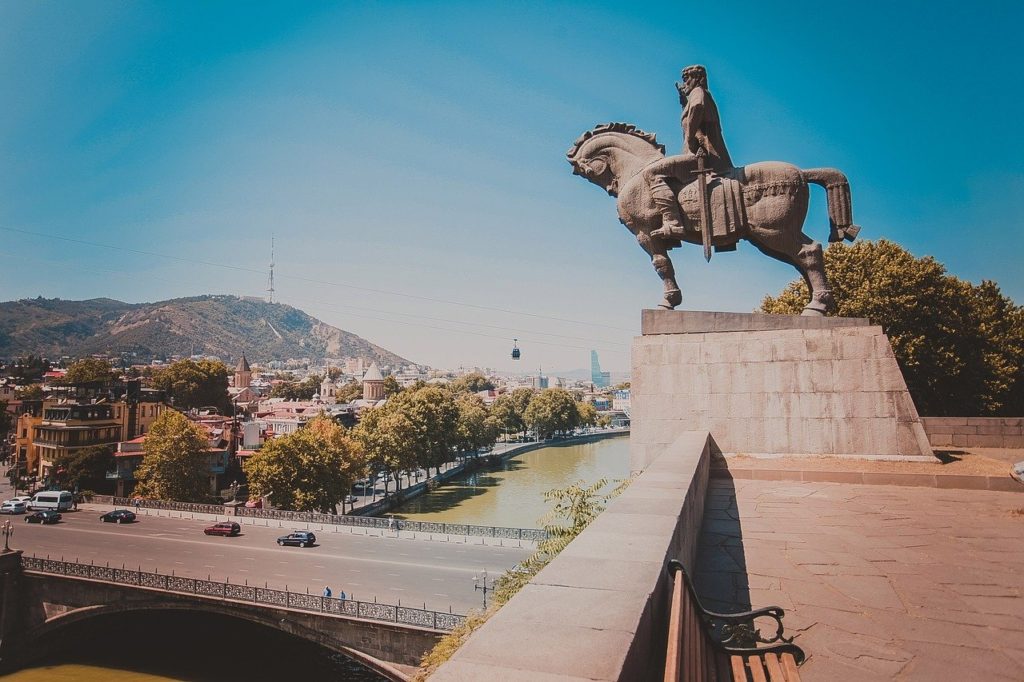 1. Visit the Old Town
Is the Old Town, Tbilisi, the most important place for you to visit while exploring Georgia? Well, it's a fantastic area surrounded by beautiful photogenic places. You'll find winding streets surrounded by quaint restaurants and cafes. You'll enjoy marveling around as it's a compact place with stunning vibes. You've to book a walking tour and marvel around at your pace.
2. Explore the Museums
Do you know there're stunning museums to explore in Tbilisi, Georgia? We're not surprised if you don't know! That's why we've shortlisted the museum exploring activities as the top things to do in Tbilisi. You'll love exploring the museums as they're not only exciting, but they also feature treasure trove collection of historical edifices. Next up: the David Baazov Museum, the Tbilisi History Museum, the Museum of Illusions are a few that top the list. With a guided tour, you'll be able to explore these museums and learn more about the historical edifices.
3. Visit the Botanical Garden
The Botanical Garden will be your stopover point in Tbilisi. It's located right outside the old town, of course, a stunning place to visit with family. You'll enjoy the picturesque beauty of this garden as it's full of flora and fauna. You'll also enjoy stunning views from the terrace as it overlooks the city and its historical sights. Take a city tour and explore this beautiful place.
4. Enjoy a Cable Car Ride
Of course, you'll enjoy a bird's eye view from the top, correct? That'll be your feeling while enjoying the cable car ride; it's one of the Tbilisi's first attractions. You can book tickets online in advance to save time as it's one of the crowded attractions. Alternately, you've to reach the Rike Park point to board for this thrilling ride and enjoy breathtaking views as you ride up.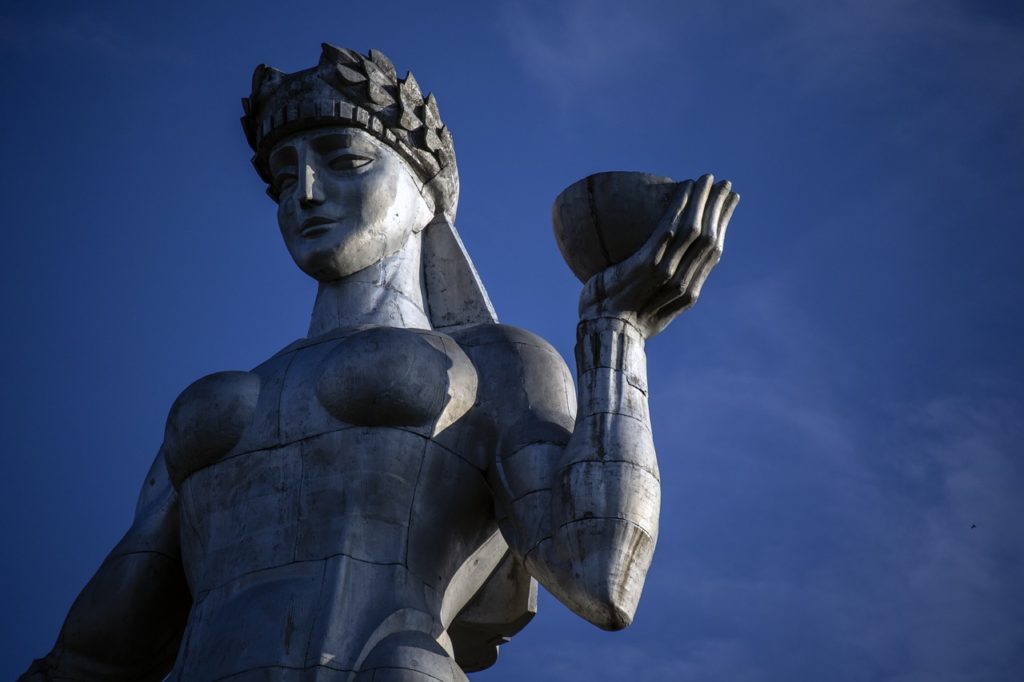 5. Mother, Georgia Statue
The Mother-Georgia is an iconic twenty-meter tall statue made of aluminum, most photographed attraction too. Since it's on top of the hill, you'll enjoy stunning views of this classic statue after the cable car drops you out there. Next up, is Georgia's wine, and what's that? Well, you've to visit and find it by yourself.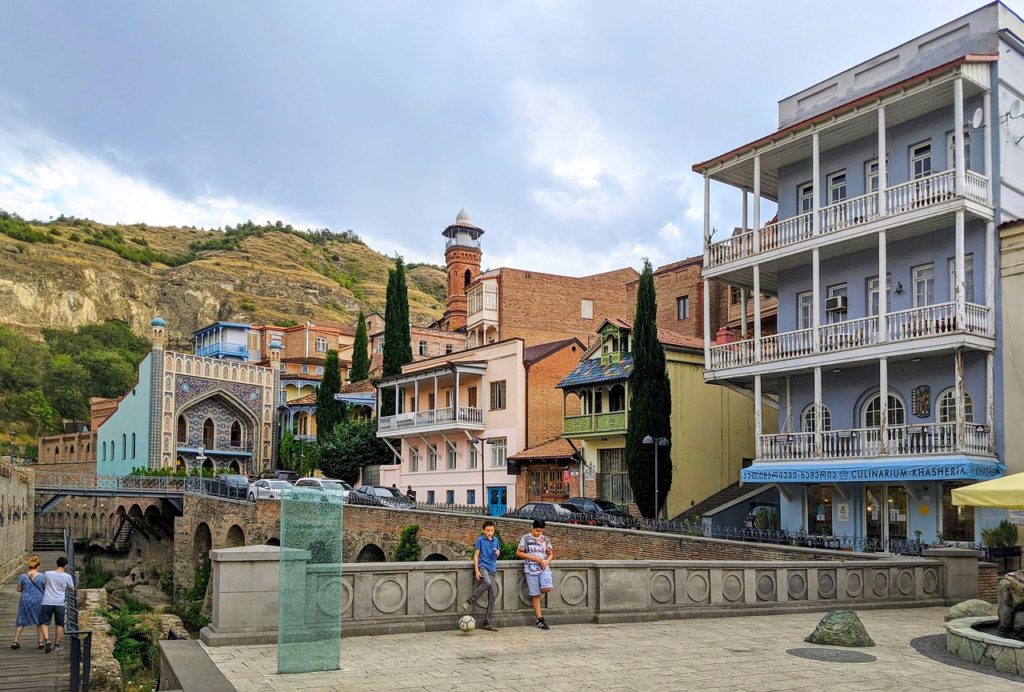 6. View the Central Mosque and Leghvtakhevi Waterfall
You'll fall in love with this city for its stunning natural beauty. The Leghvtakhevi Waterfall is one such example. You'll find it after exploring the Botanical Gardens, an excellent place to spend time with family. Surrounding the waterfall, you'll find the Central Mosque of Tbilisi, an essential religious building for Shia and Sunni Muslims. You can enter inside to marvel at the beautiful mosque building, but you've to maintain proper dress code.
7. Explore Mtatsminda Park
Mtatsminda Park is one of the best places to relax in the city. You'll love this place as it offers stunning scenery. We'll suggest you visit this place in the evening; best during the time of Sunset. You've to book a funicular ride for that. It's when you'll find multiple colors on the sky, an aura of natural beauty. Don't miss to enjoy a sundowner drink from the bars and cafes that surround the area.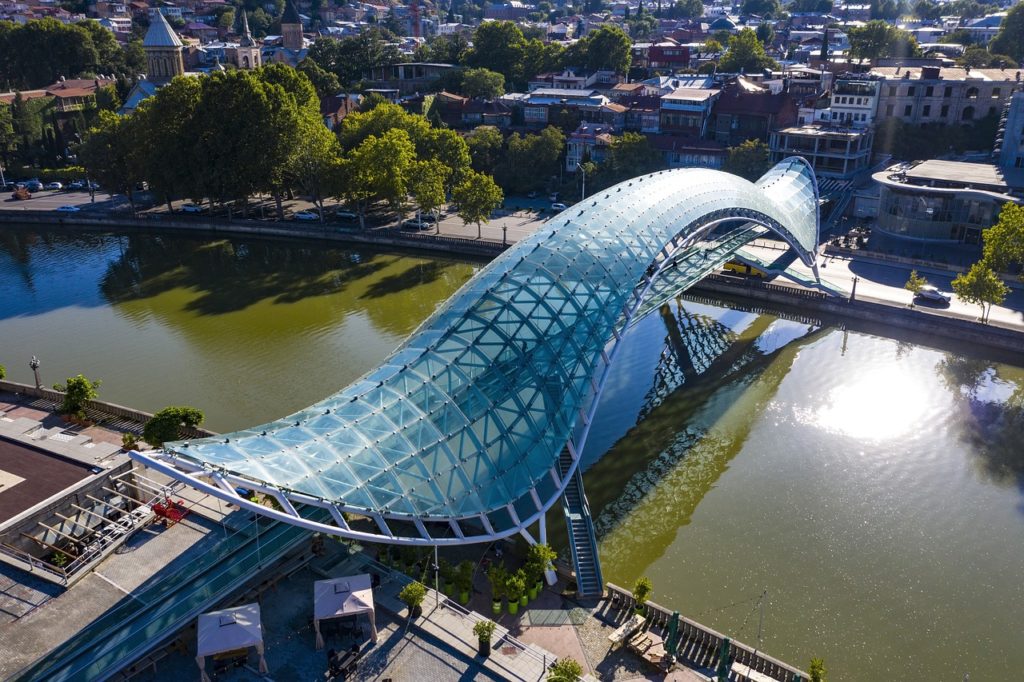 8. Wander the Peace Bridge and Rike Park
The brilliant architectures around Tbilisi will, of course, wonder you, why? Well, they'll remind you of the city's enriched history. The Peace Bridge and Rike Park both are examples of the city's enhanced artistic taste. You'll enjoy marveling around these places as they're genuinely electrifying. You'll enjoy the street arts and stunning old buildings surrounding the area, and we bet that!
9. Visit the Stalin Underground Printing Press
Underground Printing Press! Doesn't it sound interesting? It's one of the unique attractions that you've to visit before living this Georgia's vibrant capital. It's a fascinating sight, and you'll wonder while marveling around it. But, make sure there's a guide who's accompanying you along.
10. Enjoy a Traditional Dance Show with Dinner
An authentic Georgian tradition and wine will, of course, wonder you. That's what you'll enjoy after you book a ticket to see the Traditional Dance Show. You'll also enjoy the taste of traditional food while sitting at a boutique restaurant on the Mtkvari River banks. Don't forget to taste the local Georgian wine; that's one of the conventional authentic dishes, give it a try!
Summing it up
There's no doubt that Tbilisi, Georgia, is an excellent travel destination. There's a lot that you can explore and enjoy. Although we've listed the most recommended activities, you can always explore over twelve hundred events lined up to enjoy! It's time to backpack for Georgia!