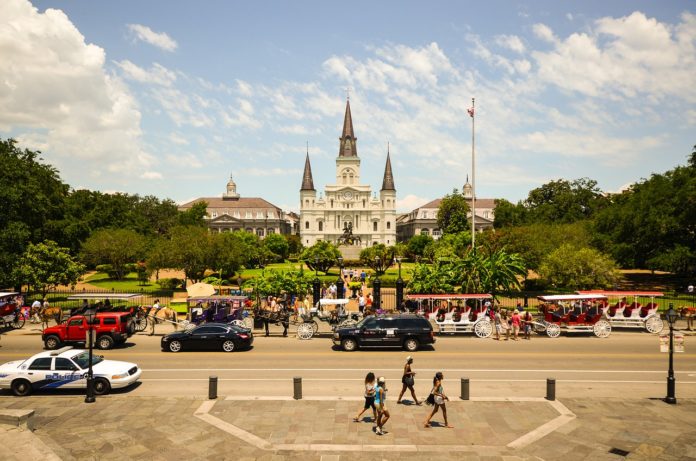 New Orleans is a beautiful city in the USA with a rich culture and historical heritage. As you move around the city, you can unfold many unique things about the past. This city is a mecca for the music and food lovers. You can marvel around the city and enjoy its colorful vibes. This beautiful city also has lots of green space to marvel around. From beautiful park, museums, zoos etc. there are so many exciting places to visit in New Orleans. This is a recommended list for the top 10 things to do in New Orleans.
The top 10 things to do in New Orleans
1. Take a Stroll around the French Quarter
The French Quarter is New Orleans oldest neighborhood full with iconic landmarks. This is a lively place with many restaurants, shops and great places to explore. There are great bars where you can enjoy dancing or taste great food. Don't forget to visit the jazz clubs and enjoy this great music as you explore this place.
2. Explore Jackson Square
The Jackson Square is a historic landmark in New Orleans. This square was built date backed in the 18th century when it was a part of the French Quarter. It was a popular place for local artists and painters to sell their works of art. You can find may artists drawing caricature or painting portraits of tourists visiting this place. So, don't miss your turn and get yours painted for a lifetime memory.
3. Stroll around City Park
It is one of the best well maintained park in states surrounded with stunning greenery. This park is a large green space that spreads across an area of over 1300 acres. If you visit early morning you can find joggers and even tourists visiting here to enjoy fresh air. It is a nice place to visit in New Orleans and take a break from the city's hustle-bustles.
4. St Louis Cathedral
The St Louis Cathedral is a famous landmark to visit in New Orleans. This is a classic example of French architecture lots of historical significance. This beautiful church was honored with the rank of basilica by Pope Paul VI date backed in 1964. Visit this church and marvel around its stunning architectural beauty.
5. Explore the Zoo
In New Orleans you can find one of the city's most beautiful Zoo, the Audubon Zoo. It houses around 2,000 animals and spreads across an area of over 58 acres. This is a great place for kid's entertainment but equally popular among adult tourists. Lots of animal entertainment shows are organized inside the zoo to entertain the visiting crowd. The animals living here are from different parts of the world and it is a great place to watch them together. Visit here and spend a day with your family when you travel to New Orleans.
6. The Aquarium of the Americas
The Aquarium of the Americas is another kid's friendly attraction to visit in New Orleans. This is a large aquarium holding over 400,000 gallons of water and many unique marine species. Some of the unique species living here includes sharks, tarpons, string rays etc. You can visit the Aquarium of the Americas everyday between 10 am to 5 pm, but reach early. It remains crowded and booking advanced ticket is highly recommended.
7. Visit the National World War-II Museum
The National World War-II Museum is an important place to visit in New Orleans. It contains important historical exhibits of the Second World War. Guided Tour to the National World War – II museum is popular. It takes you through a journey of the lives of the Soldiers who fought the war. There are over 100,000 artifacts and objects as exhibits for you to marvel around. This is a busy place, so make sure to book tickets in advance.
8. Visit the New Orleans Museum of Art
The New Orleans Museum of Art has a history of over hundred years. It was opened date backed in 1911 and is the oldest fine art museum in New Orleans. The art collection of the museum is over 40,000 which includes French, American and African art works. You can find some stunning photography, brilliant sculpture and artistic glasswork among this vast range of collections. This is one of the top-rated attractions in New Orleans, so don't miss the opportunity to visit here.
9. Visit the Jean Lafitte National Park
The Jean Lafitte National Park is a great place to visit with Kids. This park is located around 17 miles away from New Orleans in the Missisippi Delta Region. The Barataria Preserve located inside the park houses a large number of alligators and bayous which is great to see. You also find some rare bird species inside the park. It is undoubtedly a great place to visit with kids and have fun.
10. Take a culinary tour
Culinary tour always reflects a part of the countries culture. You cannot leave New Orleans without exploring its culinary retreats. Try Gumbo, the popular dish that includes sausage, okra, seafood, chicken or anything you like. It is a healthy stew with a mouthwatering taste. So, try this dish before living New Orleans.
Final Verdict
New Orleans is a beautiful and colorful city with great vibes. There are places to spend time with family or marvel alone. A large number of tours and activities are available for tourists to explore after visiting this city. The 10 best are listed above, but there are many. Check out all the Tours and Activities in New Orleans for you to enjoy during your visit.