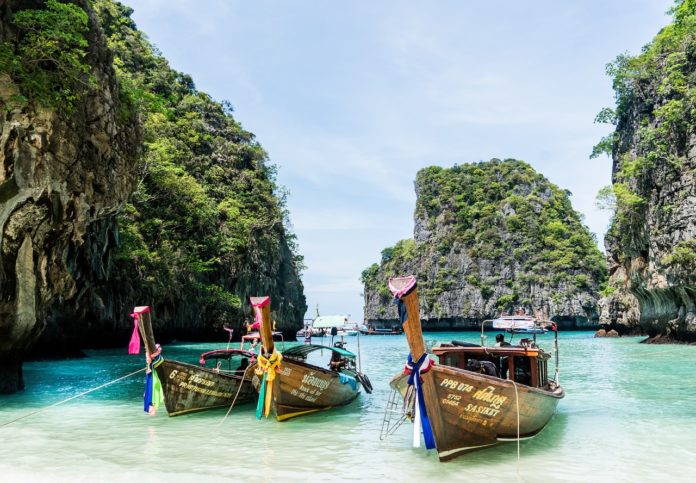 In case you are planning for a beach destination backpacking in Asia, Phuket in Thailand is backpacker's number one choice. Phuket is not only Thailand's largest island but the most popular one among other islands. Every year over 19 million tourists visit Thailand and Phuket attracts a large percentage of these tourists visiting this island. This island is located in the southern part of Thailand and a hot spot for natural beauty, mesmerizing beaches, white sands, lush green rain forests, adventure activity, elephant trekking, exotic nightlife and much more. Phuket backpacking is a unique experience as you can have endless adventure activities as well as relaxation. Backpackers often get confused when they need to decide on what things to do in Phuket. The activities are endless, but time is limited to everyone. Here is a quick guide to help you plan about the top things to do in Phuket during your Phuket backpacking.
Elephant Jungle Sanctuary Tour from Phuket
Have you ever done Mud-Spa with a live elephant? Or have you ever imagined swimming with an elephant? Get all these unbelievable activities and thrilling excitements during the Elephant Jungle Sanctuary Tour from Phuket. This Jungle tour is an ultimate adventure activity on the beach island of Phuket. Here you meet very closely with Elephants and get friendly with them. You can feed the elephants with your own hands, get muddy with them in a nearby mud spa and finally swim with them in a freshwater pool. The entire area is surrounded by lush green jungle with a view of the sea, a mesmerizing experience once in your lifetime. You can visit here either in the morning or in the afternoon, however, afternoons are preferred. Enjoy delicious buffet lunch and unlimited opportunity to take photographs with elephants like never before. In this entire tour, you have an English speaking guide to help you from starting until the end.
Phi Phi Island Tour by Speedboat
Do you remember the famous movie "The Beach" where actor Leonardo Dicaprio played a major role? That movie pictured some stunning views and mesmerizing beaches which you can see when you are on for the Phi Phi Island Tour by Speedboat from Phuket. This island tour is organized in a premium luxurious speed boat covering six of the adjoining islands with free transit. In this tour, you can enjoy the white sandy beach and do snorkeling on the clear sea water. You visit islands like Mosquito Island, Bamboo Island, Phi Phi Don, Maya Bay and Monkey Island. Also, enjoy delicious Thai Lunch served while you are at the Phi Phi Don Island. On your return to Phuket, you are also served with a barbecue meal at the Park Hopper and Pier. This island adventure tour definitely keeps a place among the top things to do in Phuket.
Phang Nga Bay by Longtail Boat Trip from Phuket
Phuket is all about exciting adventure on the island's sand and water. Phang Nga Bay by Longtail Boat from Phuket is one such adventure tour which ranks among the top things to do in Phuket. In case you are fond of Sea Kayaking, this is the best place to enjoy the adventure. The natural beauty of sea water and surrounding limestone are a real wonder for any backpacker visiting here. On this boat trip, you will also see some famous stopover points such as Hong Island, Panak Island and the famous James Bond Island. You will also see a remarkable site known as the Floating Village of Pannyi where the entire village is built out floating on the water. Enjoy all these exciting activities with a mouthwatering Thai and Western-style Lunch. Don't miss the Phang Nga Bay by Longtail Boat trip from Phuket as it has a place among the Top Things to do in Phuket.
Phuket Fantasea Show and Dinner
Phuket Fantasea show is the most extraordinary stage show you have seen ever in your life. This show takes place inside a theme park. There is also a luxurious buffet restaurant holding a sitting capacity of above 4000 people. In these 70 minutes show you will see various acrobatics, optical illusions effects, stunts, and aerial performances which you can never forget. The show will take you through the Thai Culture and Mythology which are worth to see. Artists performing this show are exceptionally well trained and with a different type of dancing pose and body movement in colorful costumes, you just cannot take away your eyes. This sensational cultural show is evidence about Thailand's strong cultural heritage and history. On top of it with a PHUKET FANTASEA SHOW tour, you get access to the Theme Park and gala dinner. Priorities this point of sensational attraction as its unique and can only be seen during your Phuket backpacking.
Flying Hanuman Rainforest Adventure
In case you are true adventure lover, Flying Hanuman Rainforest Adventure is an ideal tour for you. In this tour, you are going to experience Asia's top rainforest adventure like never before. Thrilling activities like sky-bridge, the spiral stairway and abseiling is waiting for you. This Jungle Zip-line is one among the largest in the Asian subcontinent. In case you are trying this adventure activity for the first time, go for a 16-platform version and feel the thrill to be the modern-day Tarzan. Enjoy the Flying Hanuman treetop experience, an unforgettable one in your life.
Our Final Verdict
There are really endless things to see and explore in Phuket. It all depends on how you want to enjoy your backpacking holidays. You may be an adventure lover looking for extreme adventure or a nature lover looking for complete relaxation, backpacking Phuket can offer you both. Why wait anymore? Choose the best package from over 1000 exciting packages and enjoy endlessly on this gorgeous island waiting to welcome you!