India is a Mystic land with so much diversification in culture, people, taste, attractions and food. It is a majestic country with many legends, tales and history. From temples till mountains, from rivers till vast oceans and from cosmopolitan cities till rural villages, it's all there in India. There are over 1600 cities and towns in India where culture, food, religion, tradition, customs, and history change between every hundred meters. India is also known as 'Incredible India' when it comes to tourism because of the massive diversification and countless experiences you have when you travel to India. India is now an independent progressive country that was once under the British reign for over 200 years. Every Indian city starting from the Himalayan region to the modern towns has places of historical significance. It is a great opportunity to visit India and explore this treasure. If you haven't been to India yet stick to this guide and visit the best Indian Cities mentioned over here. The 30 Best Indian Cities to visit in 2019 is a blueprint of your journey to 'Incredible India.'
Let us begin…
The 30 Best Indian Cities to visit in 2019
Srinagar
The snow-capped Himalayas and the picturesque natural beauty surrounding Srinagar are a real treasure to India. The city of Srinagar located in the Jammu and Kashmir State of India already derived many names because of the extraordinary natural scenic beauty. Tourists often call Srinagar as the Paradise City of India. The Kashmir tour packages to the surrounding places all start from Srinagar. Srinagar is also popular for the Houseboats and the Dal Lake. There are many beautiful places you can travel from Srinagar like Pahalgam, Sonamarg, Gulmarg, etc. These are small village towns located at high altitude and served as an important tourist destination. Srinagar is definitely the Indian city that you cannot miss to visit in 2019.
Are you looking to Book a Tour Package? Check these Kashmir tour packages and start your journey for Incredible India.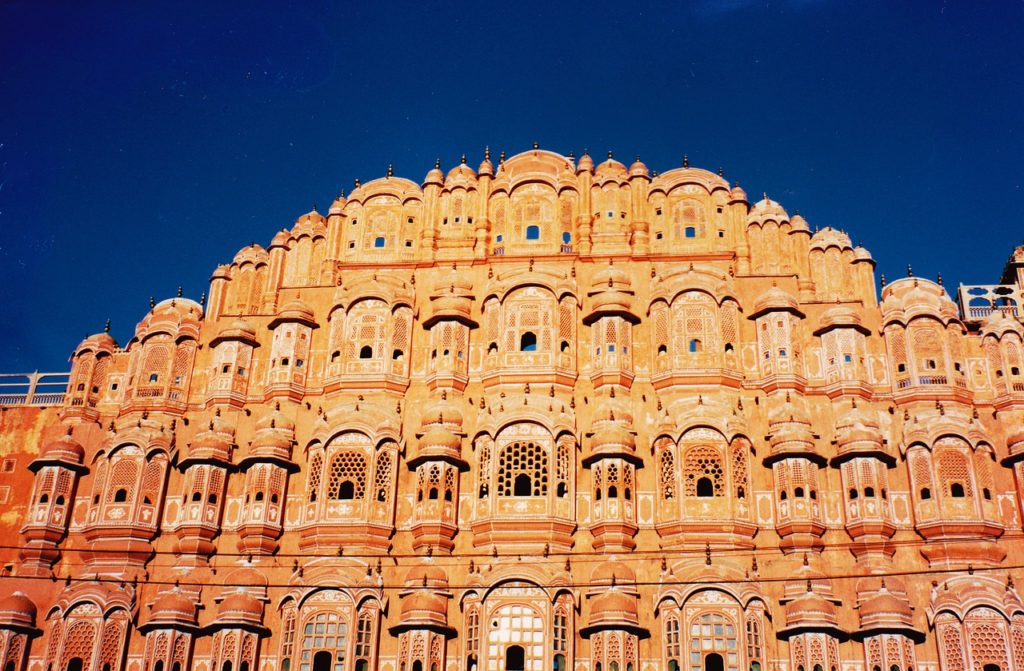 Jaipur
Jaipur is the most historic and legendary city of India located in the state of Rajasthan. A large number of forts, interesting monuments, buildings and temples make Jaipur one of India's top tourist destinations to visit. Jaipur again opens the gateway to Rajasthan as there are many beautiful places you can travel from Jaipur. The historic towns of Jodhpur, Jaisalmer, and Bikaner, etc. are few famous places to travel from Jaipur. Take a tour of this Pink City and get mesmerized with the vivid collection of natural and ancient wonders.
Want to explore Jaipur? Check out the tour packages most suitable for you.
Chandigarh
Chandigarh is a lively city where you find ultra-modern architectures, vibrant life and many well maintained beautiful gardens. Once you visit Chandigarh, you find complete greenery because of these many stunning gardens. Rock Garden, Rosegarden, Terraced garden, Pinjore Gardens and cactus garden, etc. are few of the top gardens of this greenest city of India. Surrounding Chandigarh there are many famous hill stations like Shimla, Kulu, and Manali, etc. where you can easily travel and enjoy the natural beauty.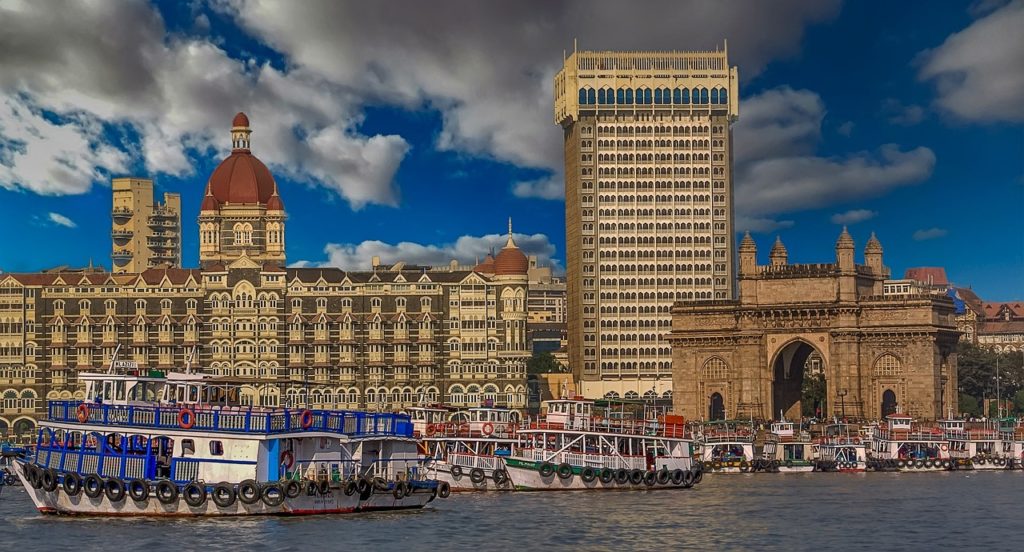 Mumbai
Often known as the city of dreams, Mumbai is a hotspot tourist destination in India. You find tall skyscrapers and cosmopolitan urban life in Mumbai. The Indian Film City, Bollywood is also located in Mumbai. From luxurious hotels, high-end bars and exotic nightlife, Mumbai has everything to offer tourists. There are some stunning beaches like Juhu beach and coastlines in Mumbai where you can watch the sunset while enjoying the fresh air. Marine Drive is one famous location where people take a stroll along the 3 Km long coastline feeling a natural beauty. Few other important places to see in Mumbai are Gateway of India, Siddhivinayak Temple, Haji Ali Dargah, Elephanta Caves, etc. Mumbai is also famous for its mouth-watering street foods like Vada Pav that sells mostly on the beach areas.
Kolkata
The metropolitan city of Kolkata (previously Calcutta) is often called the City of Joy. It is one of the most spiritual cities in India where you find many famous temples. The city is also popular because of its cultural heritage. In Calcutta you find many remarkable architectural constructions like the Howrah Bridge build during the British reign. Other beautiful places to see in Kolkata are the Victoria Memorial (named after Queen Victoria), Fort William, Indian Museum, St Paul's Cathedral Church, etc. Among the temples Dakshineshwar temple, Kolkata is the most famous. Kolkata is also famous for street foods and authentic Mughlai Cuisines like Biriyani, Kebabs, etc. Shiraz, Enamiah, Oudh, Nizam, etc. are some of the restaurants in Kolkata famous for authentic Mughlai Cuisines.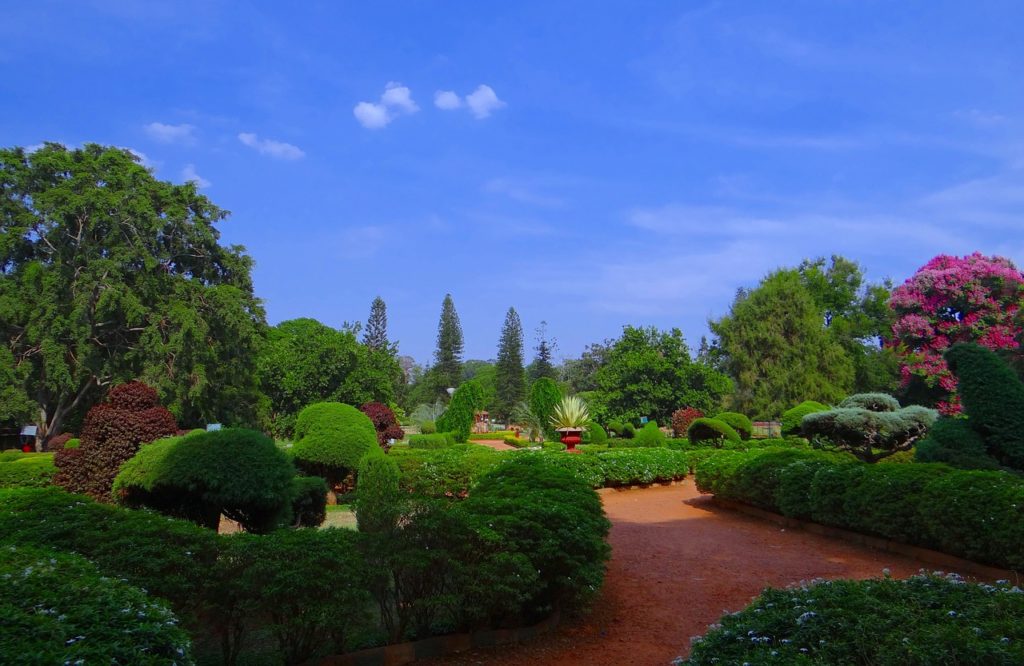 Bangalore
colorful is India's tech-city but it is also known as the Garden City of India. It is one of the most beautiful cities in India where you find lots of gardens with colorful plants. Tipu Sultan Fort, Lal Bagh Botanical Gardens, Bangalore Palace, Nandi Hills, Cubbon Park, etc. are some of the famous tourist attractions of Bangalore. Idli, Vada, Dosa are the three most popular food you can find everywhere in Bangalore. Bangalore is also called the youth capital of India as you find a large number of educational Institutes and colleges with the student population.
Hyderabad
Hyderabad is one of the most beautiful cities in India fully submerged into the Nizami Culture. The city has many famous palaces, mosques, and tombs holding an image of ancient art and history. Chowmahalla Palace, Charminar, Golconda Fort, Taj Falaknuma Palace, etc. are few of the historic architectural buildings you find in Hyderabad. For food lovers, there are some mouth-watering cuisines on offer like Mirchi-Ka-Salan, Hyderabadi Biryani, Paaya, Hyderabadi Khichdi, Lukhmi, Shahi Tukda, etc. Hyderabadi cuisines are so popular that some of the famous dishes are included on the restaurant menu of almost all Indian restaurants. Even at overseas restaurants serving Indian food includes a special section for Hyderabadi foods on their menu cards.
Pondicherry
Pondicherry is one of the most beautiful cities in India and a place of historic significance. It was once the French who settled in Pondicherry date back in 1674. Even today, if you walk down the streets of Pondicherry, you can see a clear impression of the French Colonization. There are so many French-style homes, beachside cafes, boutiques and everything set at the beachfront making this city so beautiful.
Places to Visit: French war memorial, Pondicherry botanical garden, paradise beach, Auroville, Old Light House, Rock Beach, etc. are some of the most important tourist attractions in Pondicherry.
Food: Kadugu Yerra, Quiche the famous French Food, Palpayasam, Soybean Dosai, Vegan Chocolates.
Panaji
It is rightly said that India is Unique and culturally diverse because of so many foreign Invasions that took place. Turning by the pages of the Indian history we come to know that Panaji was once under the Portuguese who settled over here. In Panaji, you find many Portuguese villas, wide tree-lined roads by the riverside, art shops and numerous places to eat seafood. You even find may casinos in Panaji and all these differentiate Panaji from other Indian cities.
Places to Visit: The church of Our Lady of the Immaculate Conception, Basilica of Bom Jesus, Se Cathedral, Dr Salim Ali Bird Sanctuary, Goa State Museum, Casino Royale, Panaji
Food: You find many restaurants in Panaji serving delicious Portuguese food. Don't forget to take the Food tour of Panaji during your visit.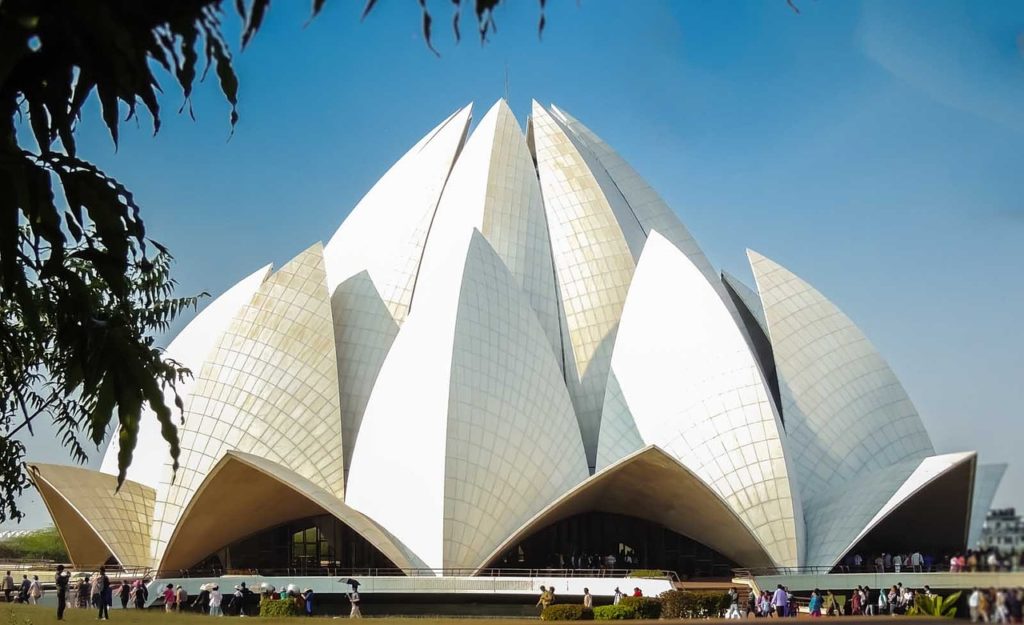 Delhi
Delhi is the remarkable state capital of India and every single line of India history from the ancient time until modern era speaks about Delhi. Delhi was once known as Hastinapur centuries ago and always serves as the administrative capital of India. The modern city of Delhi is vibrant and lively with buildings, shopping malls, nightclubs, pubs, multiplexes and so many places to see and enjoy. Many epic historic buildings in Delhi remind about ancient history. Delhi is also the center point of North India as from here you can visit many nearby tourists locations.
Places to Visit: Red Fort, Jama Masjid, Chandni Chawk, Swaminarayan Akshardham, Humayun's Tomb, Lodhi Gardens, Qutab Minar, Hauz Khas Village, India Gate, Lotus Temple.
Food: Nihari, Paranthas, Chat, Butter Chicken, Chole Bhature, Delhi Rolls and other Mughlai Foods.
Varanasi
Varanasi is one of the most culture-rich cities in India. It is also one of the oldest Indian cities with over 3,000 years of history. You find a large number of temples in Varanasi for which it is often called the Religious capital city of India. The city is also popular for its 'ghats' and there are over 88 ghats in total mostly used for bathing and religious purpose.
Kochi
India can be geographically divided into North, South, East and Western regions. South India has many beautiful states and cities with some amazing landscapes, historical monuments and ancient legendary temples. Kochi is one of the most popular beautiful sea-side cities of South India located in the state of Kerala. There are many beautiful places to see in Kochi and taste the unique South Indian Food during your visit.
Munnar
Munnar is the most popular hill station of Kerala famous for the tea estates, exotic lush greenery and craggy peaks. It is also the coolest place in Kerala and from Kochi International Airport it's a five hours drive to reach Munar. There are beautiful places to see in Munnar like flower gardens, churches, stunning waterfalls, National Park, etc. Visit this city and enjoy the natural beauty and wilderness together.
Mussoorie
Mussoorie is one of India's topmost hill stations where people travel for a summer escape. There are many beautiful lakes, waterfalls, etc. to see in Mussoorie. The scenic beauty of Mussoorie is absolutely stunning, and it is also one of the pioneer honeymoon destinations in India.
Mysore
Mysore is a premier tourist destination in South India where you find many famous monuments like the Mysore palace. This city has many magnificent buildings with royal heritage something that is unique and only seen over here. The city is also famous for its Silk, Sweet and Handicrafts items.
Nainital
Nainital is another beautiful city of Uttarakhand famous for its 'tals' or lakes. There are over 60 lakes in Nainital, and they offer some exceptional scenic beauty. If you are searching for a romantic gateway in India, Nainital also ranks top in the list. Once you visit Nainital, you certainly get many romantic experiences beyond imagination. The mesmerizing view of the Himalayas that you get from Nainital is something unique.
Agra
The name of Agra is associated with the Taj Mahal, a beautiful monument built by Emperor Shah Jahan as a memento for his wife. It is built with stunning white marbles and is a symbol of love. Other important attractions in Agra are the Agra Fort and the Fatehpur Sikri.
Leh Ladakh
Leh Ladakh is one of the most beautiful places to visit in India for its exceptional natural beauty and abundance of attractions. There are many adventure activities you can do in Ladak like mountain trekking, frozen river trekking, etc. the temperature in Ladakh often goes below one degree making it as one of the coldest places in India.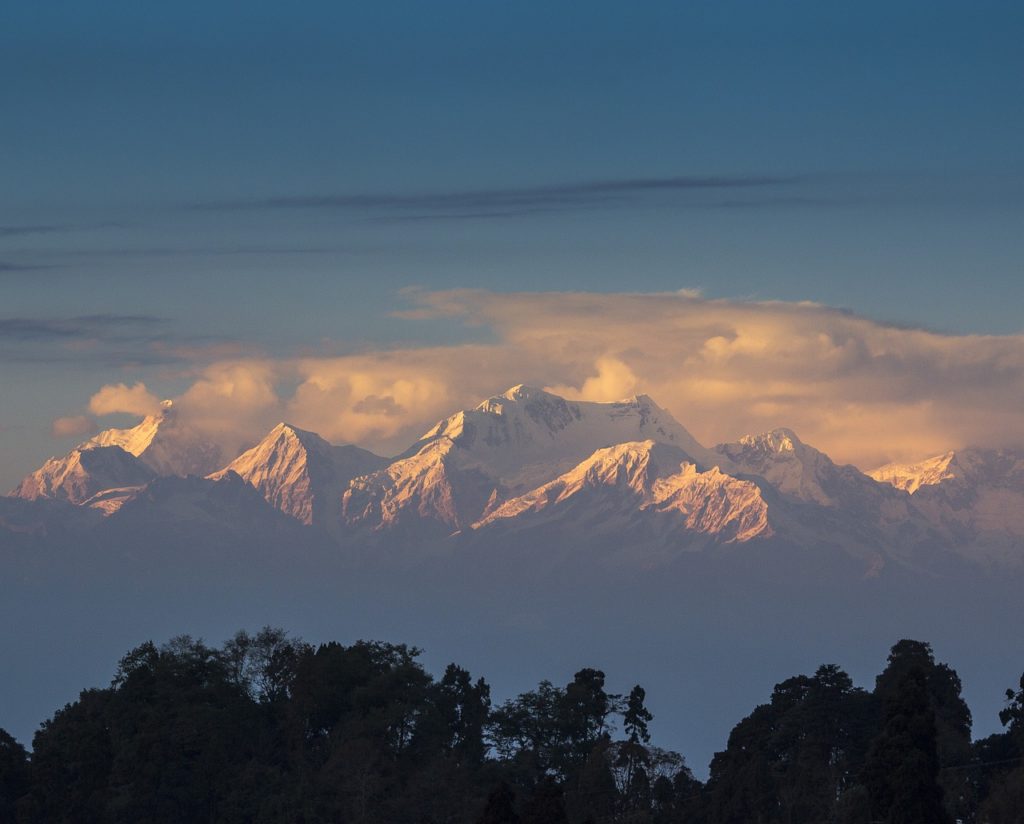 Darjeeling
Darjeeling has located in the eastern part of India and primarily a beautiful hill station with jaw-dropping natural beauty. You enjoy mesmerizing sunrise and unspoiled natural beauty once you visit Darjeeling. This city is also famous for its lush green tea plantation and Tea. The 'Darjeeling Tea' is world famous for its unique smell and taste. The temperature in Darjeeling remains low all-round the year because of the high altitude. The surrounding scenic view of the greenery and snow-capped mountains makes Darjeeling as one of the popular romantic destinations.
Ooty
Ooty is South India's most popular hill station with surrounding natural beauty. There are many sightseeing and activities that you can do when you travel to Ooty. This is a perfect place where you find nature at its best giving a pleasant climate all-round the year.
Manali
The list of the beautiful cities in India is endless, and Manali is of no exception. This is yet another hill station famous for picturesque views of the valleys and mountains. The city remains blessed with exceptional scenic beauty just beyond any level of imagination. There are many beautiful places like the Hadimba Temple, etc. for you to see in Manali.
Shimla
Shimla is one of the most popular hill stations of North India with exceptional scenic beauty. It is the capital city of Himachal Pradesh and famous for its Mall road, the Ridge, toy train, etc. It is also one of the popular destinations where newlyweds and honeymoon couples prefer to visit.
Dalhousie
Dalhousie is often called as the mini Switzerland of India because of the breathtaking natural landscape, valleys, beautiful rivers and snow covered mountains. This Himachal Pradesh destination offers some of the best scenic views in the world.
Mount Abu, Rajasthan
Mount Abu is not only famous for the cool climate, but there are some truly beautiful places to see. This is the only hill station in Rajasthan popular among tourists for a city escape. Dilwara Temple, Mount Abu Wildlife and Nakki Lakes are some of the important tourist attractions in Mount Abu.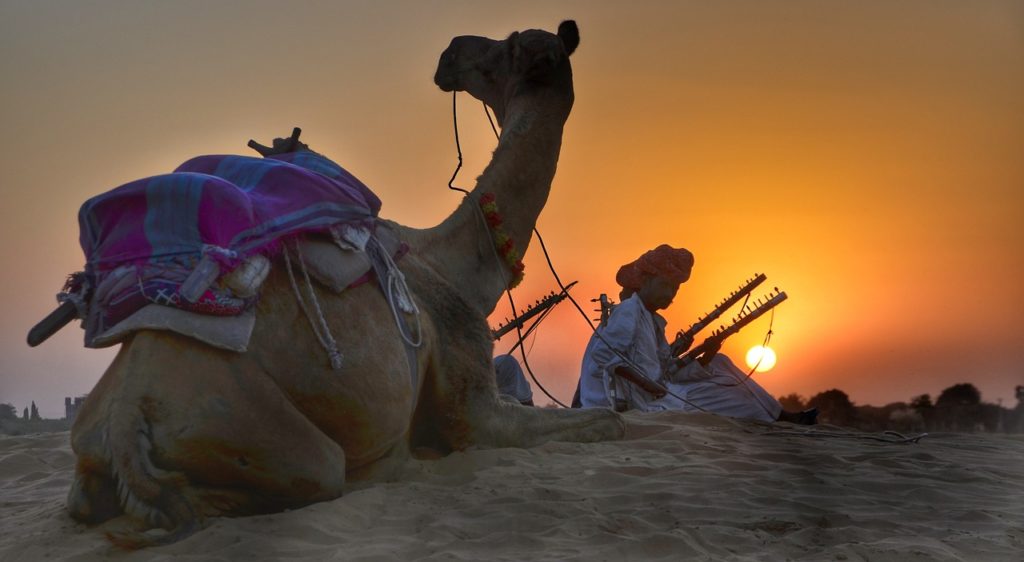 Jaisalmer, Rajasthan
Jaisalmer offers unparalleled natural beauty to the tourists visiting over here. This city is located near the Thar Desert, and you can enjoy many desert activities, like camel ride, overnight desert campaign, etc. The city of Jaisalmer is also beautiful with many forts and buildings build with golden sandstone. This is the reason that Jaisalmer is also known as the golden city of India.
Hampi
Hampi is an important tourist destination famous for its archaeological ruins of the Vijayanagar Empire. It is also recognized as the UNESCO World Heritage Site with over 500 ancient monuments, beautiful temples, bastions, and treasury building. History speaks at Hampi and there is no other city in India having such a deep-rooted historical influence.
Madurai
Madurai is famous for its beautiful temples and has much historical significance. It was once ruled by the Pandya kings, and the city is constructed in the shape of a Lotus. This is the reason Madurai is often known as the Lotus City of India. Meenakshi Temple, Alagar Koil, Thirumalai Nayakar Mahal are some of the famous tourist's attractions to see in Madurai.
Auli
Auli is one of the most beautiful cities to visit in India as there is an abundance of Natural Wonders. You find a scenic atmosphere at Auli along with complete greenery because of the apple orchards, old oaks and pine trees. Skiing and trekking are popular among the tourists visiting Auli enjoying the spellbound scenic nature. This is one of the most popular hill resorts in the Himalayan range.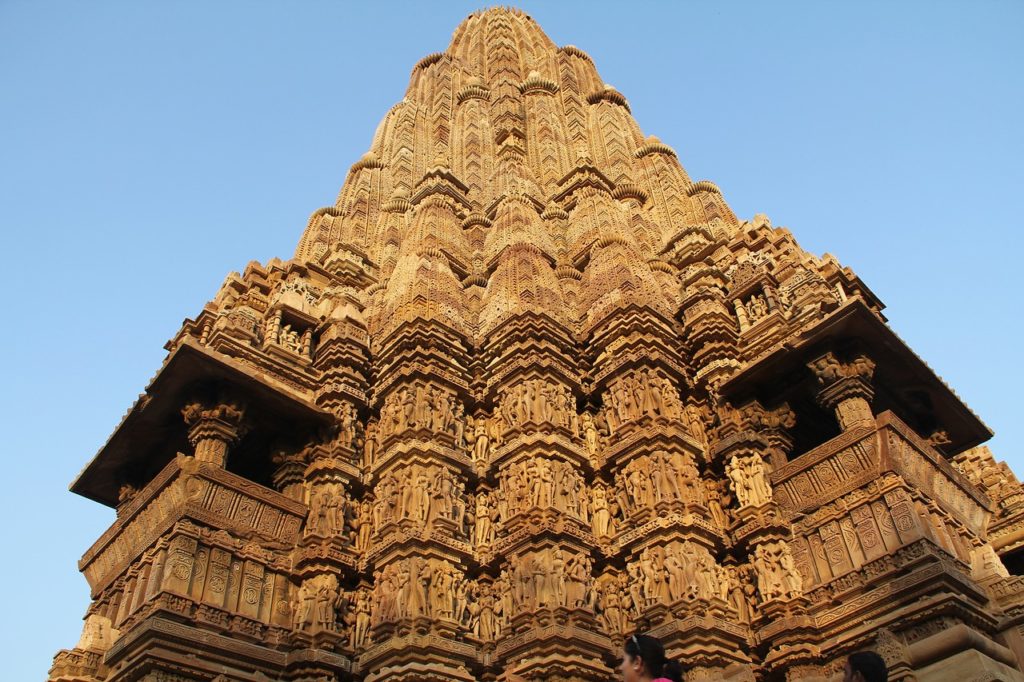 Khajuraho
There is no such temple in the world like the Khajuraho where you find so many artistic carvings of erotic poses. This temple stands as the prime attraction of Madhya Pradesh and a rare piece of architectural brilliance.
Puri, Orissa
Puri is one of the popular beach cities in Orissa famous for the beaches and the Jagannath temple. There are many stories associated with the creation of this temple as no one knows how and when the temple was formed.
Final Verdict
The list of the beautiful cities in India is large as there are so many. However, the 30 best cities are mentioned over here. Stick to this list and visit these 30 Best Indian Cities for a unique experience.
Related Questions
What is the best time to travel to India?
You can visit the metropolitan cities of India any time of the year, however, the hill stations has specific months when the temperature remains low and ideal time for visit.
What is the traveling cost in India?
Traveling in India is not expensive as you find vast network of public transportation, Buses, Trains, and Metros etc. The air connectivity is phenomenal with hundreds of domestic flights flying every day making the domestic transfers easy.
What are the Visa requirements?
You need a visa to travel to India and that can be applied online. Visa on arrival is also issued to citizens of some selected countries for up to 30 Days stay in India.