Tours & Activities in Pangkalan Bun
---
Results: 7
Orangutan Safari Kelotok Houseboat 3 Days Big Boat Private
Visiting the Orangutan National Park in Tanjung Puting provides an extraordinary experience that is unique to visiting and rare habitats in the world 1. Take a safari using the traditional wooden boat Klotok with a view of the tropical rain forest with wild life along the river, warm drinking food, bathroom facilities with shower and western standard toilet, and the boat still provides electricity there must be no cellphone signal 2. Meet orangutans in the wild in their habitat, and also gibbons, proboscis big nose monkeys, long tailed macaca monkeys, various birds, and if you are lucky enough to encounter freshwater crocodiles and large brackish crocodiles. 3. And with long experience serving your vacation trip stay comfortable
Price from 408,21 EUR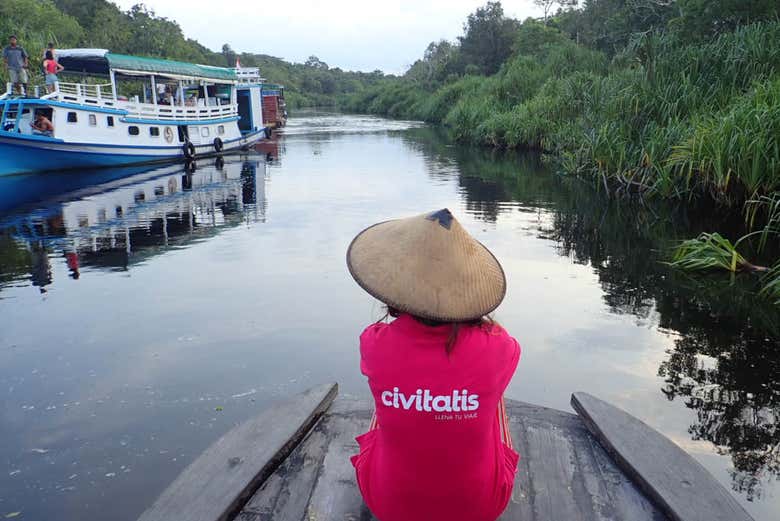 Private Borneo Cruise and Orangutan Sighting
Discover the wildest side of Indonesia with this cruise of 3 days or more around Borneo, seeing orangutans in their natural environment..
Price from 585,10 EUR
Why TopGuide24?
Find the best activities for your holydays!
Huge variety
Quick search on different websites for the best tours and activities worldwide.
Perfection
Various filtering and sorting functions help you find the perfect experience.
Customised
Tours in small groups or privately without other guests.
Flexible
Many products can be cancelled free of charge up to 24 hours before the start.
4-Day Private Orangutan and Bornean Primates Tour from Pangkalanbuun
This 4-day private tour is not only a multi-day tour, but a chance to understand human evolution. The orangutan is the great ape in Asia who only lives in Sumatra and Borneo. Orang means people and Utan means hutan or forest "people of the forest"- we share 97% DNA with Orangutans. You will visit 3 Orangutan feeding stations: Tanjung Harapan, Pondok Tanggui and Camp Lekey. You may see another exotic animal like Proboscis monkey-Bekantan the endemic primate in Borneo. Silvered Langur, Red-leaf Monkey or Pig-tailed Monkey are exotic primates difficult to see. You may see different kinds of birds, crocodiles in the river banks, plants and blossoms. This is a wildlife experience like no other. Please notice during peak season (Jul-Aug-Sept) all the tour will start no earlier then 10.00 am and will be finished maximum at 09.00 am. Please discus for any optional according flights schedule.
Price from 541,75 EUR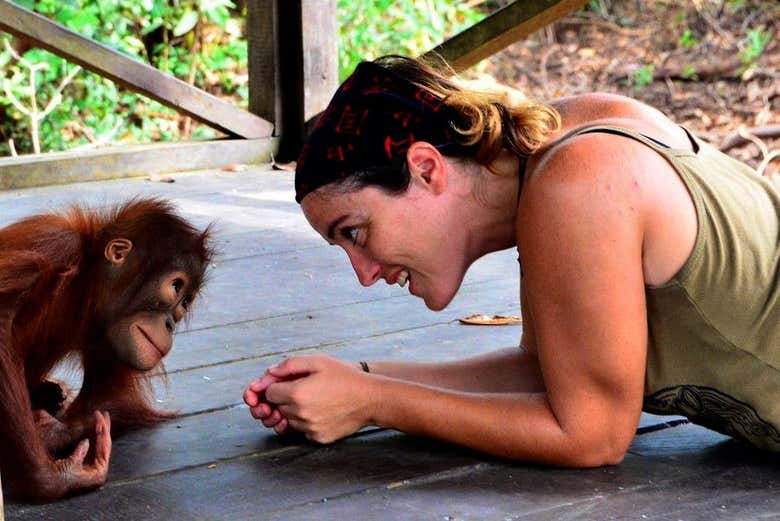 Borneo Private Cruise + Orangutan Watching
On our Borneo Private Cruise with Orangutan Watching, you'll have a 3-day adventure in a beautiful place with an English-speaking guide just for you!
Price from 1170,00 EUR
3D2N Orangutan Houseboat Tour in Tanjung Puting National Park
We offering a small group tour, sharing with another traveler. Every small group will need a maximum of 15 people. We will use a big boat and sharing accommodation on the boat. River cruising into the Borneo legendary rainforest. Staying on the typical boat called kelotok, your floating homestay. Visiting 3 Orangutan feeding station: Tanjung Harapan, Pondok Tanggui and the most historical Camp Leakey- first research of Bornean Orangutan started. Packs of endemic primate in Borneo: Proboscis Monkey-big nose and fatty bellied, Sundaic-silvered Langur with their golden baby. Cruising into the black water river-Simpang Kanan river you will understand why DR. Birute M.F. Galdikas wrote her book: Reflection of Eden: My Years with the Orangutans in Borneo.
Price from 380,90 EUR
Orangutan Tour Tanjung Puting 3D2N
This tour could be your perfect getaway, deep in the tropical jungle. Come and explore Tanjung Puting National Park for 3 days. You'll see all three camps in the national park where orangutans come during feeding time in the morning or afternoon. Stay overnights on klotok and wake up in the morning. Let your soul be refreshed by the sound of nature. Proboscis monkey,long tailed macaque, kingfisher bird, hornbill, gibbon and other wildlife are waiting you in the fresh jungle. We will walk at night to the jungle to see some mushrooms such as smoky mushroom and glowing mushroom,you also have possibility to see tiny monkey, the tarsier will welcome your night before sleep on the Klotok. This once in a lifetime adventure to Indonesian Borneo will give you an opportunity to see Orangutan in their natural environment. The Orangutans are sure to touch your heart, making this an experience you will never forget.
Price from 332,26 EUR
Susur Sungai Arut , Down The Arut River
Arut River is the only river that presents a unique view of the river life of the people of Kalimantan, an island where the river serves as a link between rural cities in the past. and see a wooden house that stands firmly on the banks of the river with tides every day, by road using a wooden bridge along the 5 km, this trip completes your visit Kalimantan
Price from 47,47 EUR