Tours & Activities in Ravenna
---
Results: 6
From Ravenna to Venice including private transfer
This tour is designed for those arriving at the port of Ravenna, en route to Venice. Your driver will greet you at the Terminal Crociere - Porto Corsini Ravenna, assist with your luggage, and transport you to downtown Ravenna. Here, I'll meet you for a walking tour of Ravenna's main UNESCO sites. The walking tour is approximately 2/3 hours. Afterward, you have time for lunch/break. Following your exploration of Ravenna, my driver will then transfer you to your final destination in Venice ___ Ravenna was one of the most important cities of Late Antique Europe and hosts some spectacular works of art and architecture from this period. Best known for the magnificent and sparkling mosaics of its sacred buildings, it had been chosen as the west's new capital in 402. That was the beginning of its golden age.
Price from 1650,00 EUR
Wonderful Ravenna, visit 3 UNESCO sites with a local guide on a private tour
During this Private Tour Silvia will make you discover the extraordinary history of the most important UNESCO sites in the city of Ravenna, from the fall of the Western Roman Empire to the Byzantine rule. Ravenna in the space of only 200 years was nominated capital three times and today its perfectly preserved mosaics leave us breathless, taking us back to the ancient glories of a bygone era. During this visit, immersed in the evocative half-light, you will have the opportunity to observe the majesty of the mosaics in a completely unique and special atmosphere outside of satiety and time.
Price from 280,00 EUR
Why TopGuide24?
Find the best activities for your holydays!
Huge variety
Quick search on different websites for the best tours and activities worldwide.
Perfection
Various filtering and sorting functions help you find the perfect experience.
Customised
Tours in small groups or privately without other guests.
Flexible
Many products can be cancelled free of charge up to 24 hours before the start.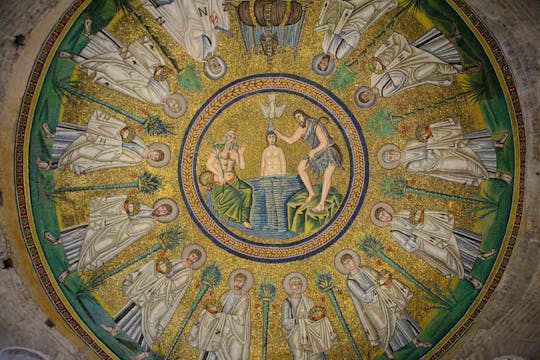 Full-day private tour of Ravenna with mosaics admission
On this full-day walking tour you'll explore the city of Ravenna, known for its well-preserved late Roman and Byzantine architecture and for its eight UNESCO World Heritage Sites! Marvel at its stunning mosaics and learn about its fascinating history.
Price from 239,00 EUR
Tour available in:
English
Italian
French
Spanish
German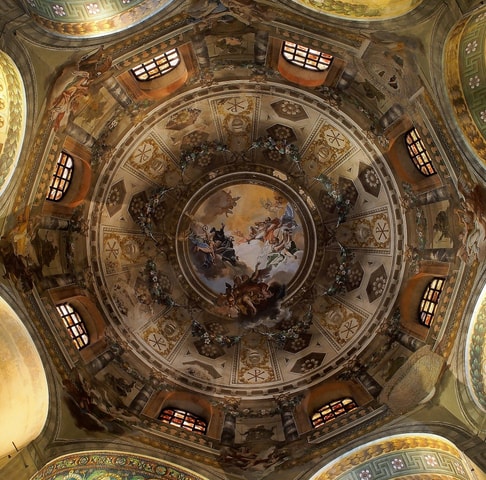 Best of Ravenna on a private tour
Join me on this fascinating tour of Ravenna, exploring its incredible UNESCO sites and admiring the beauty of its mosaics.
Price from 230,00 EUR
Art tour of Ravenna and its mosaics (private tour)
Ravenna: a treasure of the Mediterranean: A hidden world of mosaics and underground crypts, the absolute pearl of art of Emilia Romagna region. Several populations estabilished on the sandy Adriatic coast. This endless territory of marsh, wetlands, lagoons, swamps, despite being partially unhealthy, turned out to be the perfect shelter for a craddle of civilization. The pines of the coast started to be exploited by romans to build their undefeatable fleet. Our tour will be as rich in detail and complete as possible, in order to let you dive into this golden age, and let you travel back in time with your mind and your senses.
Price from 230,00 EUR
Ravenna Mosaics and Art - Half day private guided tour
Even just a half day visit is enough to enjoy the best of what the astonishing city of Ravenna has to offer. Discover the Early-Christian and Byzantine mosaics of the 5th and 6th centuries and you will be fascinated!
Price from 158,00 EUR