Tours & activities in San Giovanni Rotondo
---
Results: 9
Walking tour San Giovanni Rotondo
Choosing our tour you can visit all the mentioned monuments with a single ticket and you can discover the life of Padre Pio with an expert guide.
Price from 25,00 EUR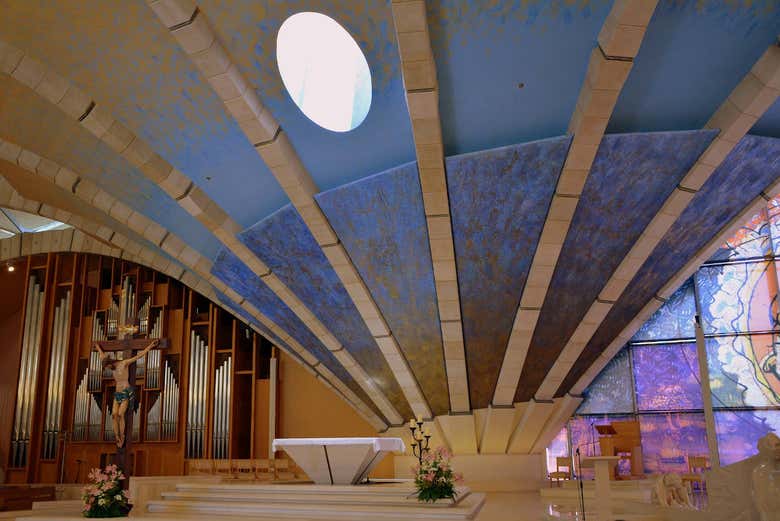 Private Tour of San Giovanni Rotondo
Explore the town of San Giovanni Rotondo, an important Catholic pilgrimage centre where Padre Pío spent much his life, on this private English-language tour.
Price from 120,00 EUR
Why TopGuide24?
Find the best activities for your holydays!
Huge variety
Quick search on different websites for the best tours and activities worldwide.
Perfection
Various filtering and sorting functions help you find the perfect experience.
Customised
Tours in small groups or privately without other guests.
Flexible
Many products can be cancelled free of charge up to 24 hours before the start.
San Giovanni Rotondo private guide: amazing spiritual experience with St. Pio
The tour itinerary will unite the most significant places: the "ancient" church, the "new" church, both dedicated to Santa Maria delle Grazie, the Monastery and the new sanctuary.The ancient church of the mid-1500s has a very simple façade and inside it is composed of a single baroque style nave. At a second entrance to the convent is the cell of Padre Pio and the crypt where the body of Padre Pio was housed before being transferred to the nearby sanctuary.The visit continues with the "new" church, built for the explicit desire of Padre Pio, with the intention of being able to accommodate in an appropriate manner the considerable flow of thousands of pilgrims that flowed ever more numerous to San Giovanni Rotondo. The tour ends at the Sanctuary, designed by architect Renzo Piano, one of the largest churches in Italy, capable of holding up to 7,000 people.
Price from 188,00 EUR
WATCHMEN Catholic Pilgrimages Professional Guides Walking Tours 5+ Day 3+ Group
Catholic Faith Travel Network Pilgrimage Sites Worldwide Any Tour Dates At Your Budget 5+ Days Small Group 4+ Senior Friendly NO Non-Refundable Deposit FREE Travel Medical Insurance.Guadalupe,Fatima,Santarem,Assisi,Avila,Rome,Holy-Land,Chartres,Walsingham,Knock,La-Salette,San-Giovanni-Rotondo,Loyola,Lourdes,Santiago-de-Compostela,Montserrat,Garabandal,Camino-de-Santiago,Krakow,Aix-en-Provence,Lindisfarne,Salzburg,Jerusalem,Paris,…Worldwide guided walking tours by certified local expert professional guides & various small group quality verified sightseeing tours of all major tourist attractions: UNESCO Heritage, historical, architectural, imperial, medieval, cultural, spiritual, educational & hidden gems. Enjoy city's art, music, food, wine, beer, photo-shoot, etc.Visit famous landmarks every tourist wants to see. Also visit non-touristy sections of the city, the areas most tourists don't see, such as the cobblestone alleys, the vineyard, local culture and where locals patronize.
Price from 302,56 EUR
Private Transfer from San Giovanni Rotondo to Bari (BRI) Airport
Take the worry out of your departure to Bari Airport and pre-book a private transfer to suit your group size (up to 8 people). Avoid the long lines for taxis at the hotel, and travel in the comfort of a Premium car or minivan.
Price from 430,00 EUR
Tour with transfer from San Giovanni Rotondo to Monte Sant'Angelo
Visit the UNESCO site Monte Sant'Angelo leaving from San Giovanni Rotondo with a comfortable transfer in minivan
Price from 92,02 EUR
Private Course of Fresh Pasta and Focaccia del Gargano
A unique experience that will allow you, at the end of the course, to become a perfect Apulian mother to amaze your friends, when you decide to prepare a unique dinner with delicious dishes.
Price from 45,00 EUR
Tour with transfer from Foggia to San Giovanni Rotondo
Our tour with transfer allows you to reach with a comfortable transfer in minivan San Giovanni Rotondo and visit it with a guided walking tour
Price from 119,08 EUR
3-Day Private Tour to the Ponte di Ognissanti on the Gargano
The traveler can spend a pleasant food and wine holiday, experiencing the complete process of oil processing and visiting an important companyzootechnics, with dinners in restaurants "friends" of the SLOW FOOD GARGANO.
Price from 275,00 EUR