Tours & activities in Sigulda
---
Results: 14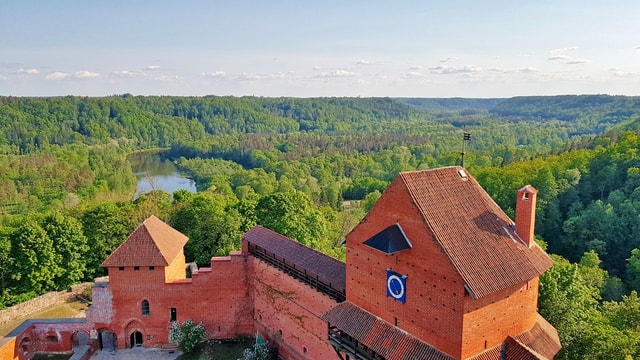 Discover Best of Sigulda and Gauja National Park In One Day
Discover the utmost beauty of Gauja National Park hiking near Sigulda, Kriulda and Turaida Towns. Explore the regional towns for their unique qualities, all in one day.
Price from 120,00 EUR
Hot Air Balloon rides
Unique sightseeing experience, breathtaking journey into the clouds,provided by certificated company and experienced pilots. Like no other, Amber Balloons is a flight operator, certified by Civil Aviation Agency to serve commercial flights. It is a guarantee of legacy of high quality service.
Price from 205,13 EUR
Why TopGuide24?
Find the best activities for your holydays!
Huge variety
Quick search on different websites for the best tours and activities worldwide.
Perfection
Various filtering and sorting functions help you find the perfect experience.
Customised
Tours in small groups or privately without other guests.
Flexible
Many products can be cancelled free of charge up to 24 hours before the start.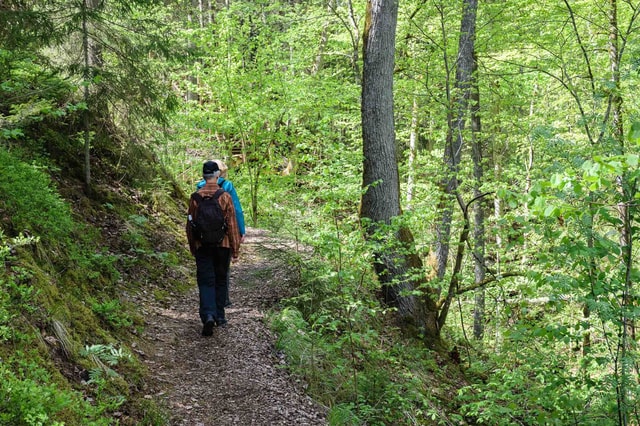 Sigulda Hiking Tour: A Day in the Switzerland of Latvia
Discover the caves, cliffs, impressive forests, and popular attractions of Sigulda, Krimulda, and Turaida, on a full-day guided hike. Enjoy the natural beauty of this region known as the Switzerland of Latvia on a leisurely hike that covers 15 kilometers.
Price from 55,00 EUR
Gauja National Park guided tour
Gauja National Park is the largest and oldest national park in Latvia. It's the third most visited destination in Latvia. The closest city at the national park is just 50km away.
Price from 50,00 EUR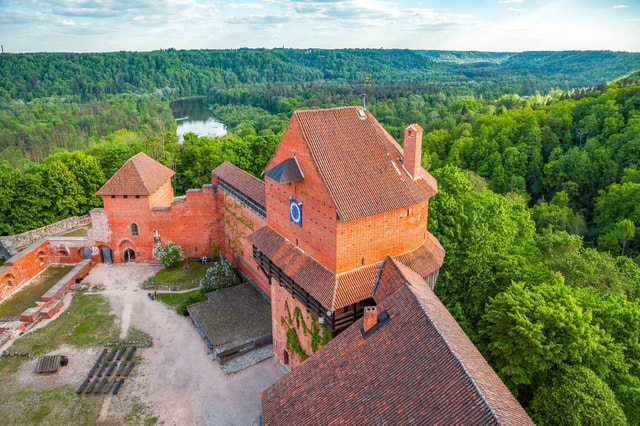 From Riga: Cēsis, Sigulda & Turaida Castle Tour
This one day tour will take you to two beautiful cities of Latvia: ancient Cēsis or Wended, and beautiful Sigulda, known as the Switzerland of Latvia. You also enjoy the picturesque countryside, a nature park, and visit 3 medieval castles with your guide.
Price from 75,00 EUR
Guided tour "Love Stories of Sigulda"
An exclusive tour for all the romantics of the world! Together with the professional local guide, you will visit the most romantic places in the city. What legends are hidden in Turaida Castle? You will feel spellbound in a charming atmosphere. What is considered as one of the best places to have a date in the city? Where can you make lovely photos? You will be surprised how many historical love stories are hidden in the streets, buildings, parks of the city. From heartbreaking and tragic, to the hilarious or spicy ones. You will hear love stories of Turaida and Sigulda Castle. This tour is especially recommended in the Saint Valentine period!
Price from 409,24 EUR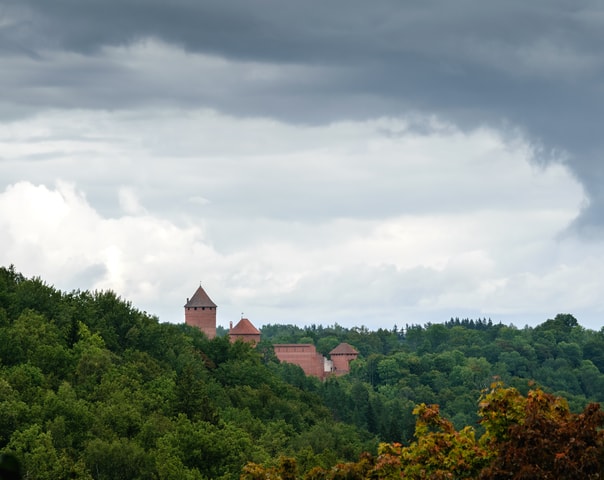 Sigulda Day Tour - Castle Ruins, Gūtmaņala Grotto, & More
Sigulda is one of the most beautiful cities in Latvia and boasts many historical sites. Tour goes through the Gauja national park by visiting the Sigulda castle, the Gūtmaņala grotto, the famous Turaida Museum, and ride the aerial cableway.
Price from 72,00 EUR
Canoeing in Gauja river
The Gauja is the favorite river of water tourists looking for calmer waters. These swims are suitable for families with kids.Duration: from 5 hours up to 3 days. Length of the tour depends on how fast you row and which option you choose.
Price from 61,54 EUR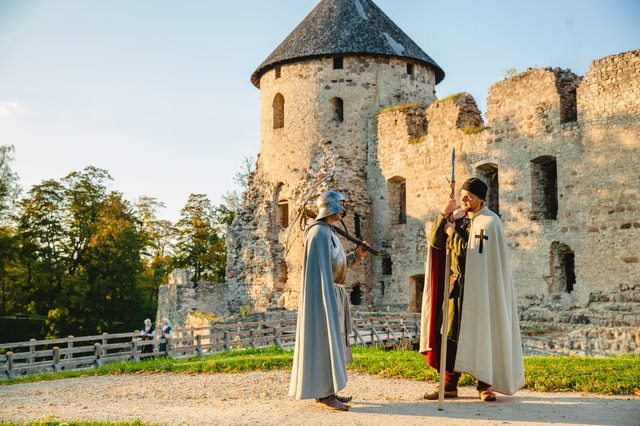 From Riga: Mini Baltic Day Tour to Sigulda, Ligatne & Cesis
This Mini Baltic Tour will include the main sights to see in the countryside of Latvia such as Sigulda Castle, the bobsleigh track, Gutmana Cave, the secret Soviet bunker as well as Cesu Castle.
Price from 450,67 EUR
The best of Sigulda walking tour
Together with the professional guide, you will visit the most charming places in the city. Visit the widest and highest cave in the Baltic countries. What inscriptions are in the cave? And what legend is scaling about this cave?. You will have a chance to explore the city, while hearing fascinating facts and legends. Why Sigulda was called Switzerland of Vidzeme? You will be surprised how many stories are hidden in the streets, buildings and corners of Sigulda. Your charming guide will tell you what is special and unique about living in this city. Perfect for those who are visiting the city for the first time and want to get the most of it!
Price from 409,24 EUR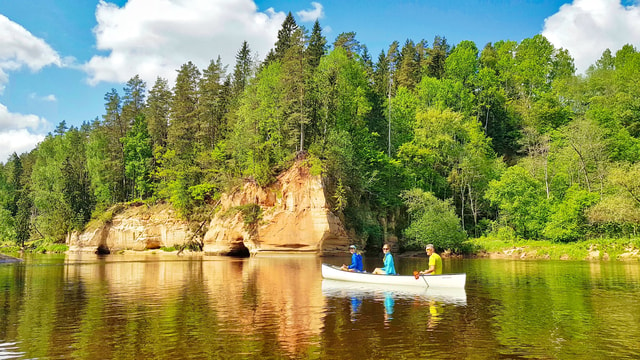 From Riga: Full-Day Scenic Gauja River Valley Kayaking Trip
Join an amazing full-day kayaking trip through the famous and breathtaking Gauja River Valley. Explore the stunning steep riverbanks, awesome sandstone cliffs, and dense forests of Gauja National Park from a kayak.
Price from 140,00 EUR
Magic Christmas tour in Sigulda
The exclusive tour only in the Christmas period! This special times brings magic in Sigulda. Together with the professional local guide, you will visit the most beautifully decorated places in Sigulda. You will feel spellbound with the charming atmosphere, which you can feel only this time of the year! What is the story of the Christmas tree? Who was the first to decorate it in the world? What magical things can happen during the Christmas period? Have you heard about Christmas spells? You will hear miraculous Christmas legends about Sigulda. You will visit a beautifully lit and magical Christmas tree. What makes it so popular? What local products must taste at Christmas? Fill your heart with the joy and experience magic of Sigulda.
Price from 614,36 EUR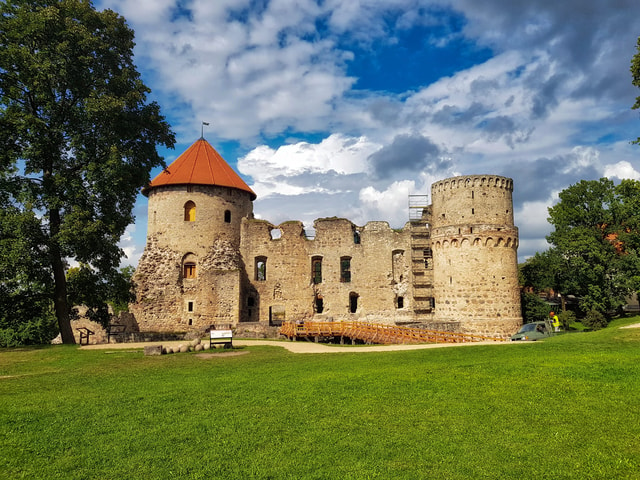 Cēsis, Līgatne, Sigulda & Turaida Tour: Must-see Highlights
Discover many interesting highlights of Latvia's famous Gauja National Park. Admire the natural wonder and medieval architecture of the towns of Cesis, Līgatne, Sigulda, and Turaida.
Price from 90,00 EUR
Bike rental in Sigulda
Daily checked bikes.Great prices.Great staff - can arrange pick up and drop off of the bikes.Mountain bikes and city bikes.Rent from 1 hour to period of your choice. We have shop as well so if you forgot your shorts, you can get them from us.
Price from 10,00 EUR