Tours & activities in Lecce
---
Results: 11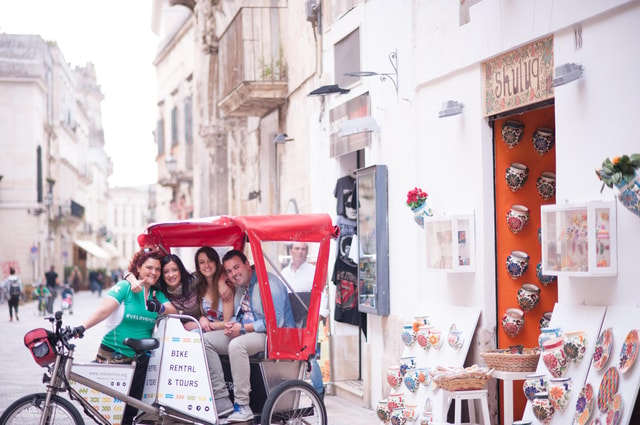 Lecce: Long Bike-Rickshaw City Tour & Local Flavors
Treat yourself to an outstanding long Bike-Rickshaw City Tour in Lecce. This is an unique experience for an exclusive tour among art, culture, food and folklore. See the main sites and the most picturesque corners of the city in an eco-friendly way.
Price from 130,00 EUR
Lecce Bike Tour
Experience a pleasant bike tour of Lecce and let your expert multilingual guide show you the most important attractions of the Apulian Baroque capital. Visit the Basilica of Santa Croce and piazza del Duomo, home to Lecce Cathedral.
Price from 32,00 EUR
Why TopGuide24?
Find the best activities for your holydays!
Huge variety
Quick search on different websites for the best tours and activities worldwide.
Perfection
Various filtering and sorting functions help you find the perfect experience.
Customised
Tours in small groups or privately without other guests.
Flexible
Many products can be cancelled free of charge up to 24 hours before the start.
Mountain Bike Adventure: Otranto, the Cava di Bouxite and the Idro Valley
We will live a Mountain Bike adventure in the Otranto-Leuca Regional Natural Park. You will have the best MTB and equipment available for this type of outdoor activity. You will be guided by expert and specialized environmental and excursion guides. You will always be supported by our staff for any technical problem on your bikes. You will live in complete autonomy a guided MTB adventure modulated on your level and your abilities. We will explore a Natural Park full of equipped cycle-hiking trails, completely immersed in a natural landscape of incomparable naturalistic value. You will cycle along panoramic rocky paths overlooking the sea, we will descend pleasant slopes until we touch the sea, we will have fun jumping on the red earth dunes in the suggestive Cava di Bauxite, we will cycle in history going back down the Idro Valley, we will travel the ancient stretch of the Via Francigena that will take us to Otranto where we will visit the ancient village.
Price from 41,03 EUR
Lecce to Cesine Protected Natural Reserve Full-Day Bike Tour
The zone that separate Lecce from the sea proves the beauty of Salento's landscape and still preserves the traces of the important role that this area played in the history.Riding out from Lecce towards the southeast through secondary roads, we will reach the fortified village of Acaya, a Messapic site where you will admire the majestic castle, the walls of the village and his ancient city plan, still preserved.Then we will move towards the WWF natural park "Le Cesine", which hides many beautiful plants and water birds. So we will refresh with a nice swim in Torre Specchia and we will cycle back to Lecce crossing a landscape full of olive trees and small villages
Price from 93,63 EUR
Lecce Bike Rental
• Discover the wonderful cities of the Apulia region on an alternative way • Ride in complete freedom and indipendence by choosing the bike that suits you best • Plan your route from town to town, by the seaside or countryside • Let us suggest you places and events that could not be missed 
Price from 31,17 EUR
Gallipoli Inland and Surroundings Full-Day Bike Tour
Gallipoli was the starting point of the Salento's big commerce of oil. Frome there, the oil was ferried all around Europe, than was used to light up cities and houses. So the city and their surroundings were rich, and traces of this prosperity are still there.We will cycle towards Sannicola, in the hinterlands: here we will visit an ancient underground oil mill of XVII century. Crossing the landscape, between vineyards and dry-stone walls, we will see the historical centre of Galatone. Than back to the see, to enjoy the wild nature of Porto Selvaggio: here we will walk in the pinewood before to have a swim and a nice picnic.We will go back to Gallipoli riding along the coast.
Price from 97,83 EUR
Otranto and Surroundings Full-Day Bike Tour
Riding through secondary roads and a pleasant dirt patch, we will discover one of the most fascinating and typical areas of Salento: the surroundings of Otranto.Crossing the Valley of Idro we will bump into his Byzantine crypt of Saint Angel, and we will reach the foundation "Le Costantine" a center dedicated to organic farming and traditional weaving with old looms. We will cycle towards the megalithic garden of Giurdignano, to admire his prehistoric dolmen and menhir, than we will see a small lake in a disused bauxite quarry. Stop by a bakery with a stone oven for a delicious lunch with typical products, but also by Porto Badisco for a sweet coffe with ice and almond milk and for a fresh swim.
Price from 95,00 EUR
Mountain Bike Adventure: Porto Badisco and the Nature Park Trails
A unique mountain bike adventure to discover Salento, riding in a natural park along scenic cycle-hiking paths, accompanied by environmental guides expert in this outdoor activity, always supported by a mobile base for any need or technical assistance without worrying about anything, we think of everything. We will provide bikes (Mtb) and all the necessary technical equipment. We will explore the natural canyon of Porto Badisco by mountain bike riding along adventurous and panoramic stretches on dirt and rock, with adrenaline-fueled descents and points of view out of the ordinary. With this excursion you will fully experience the Outdoor emotions in Salento and you will learn how to practice this activity in complete safety accompanied and guided by our expert instructors. A 360 degree immersion in the nature of Puglia, pedaling towards adventure.
Price from 54,06 EUR
Bike tour: Otranto, Giurdignano and the Megalithic Garden
Live a unique adventure pedaling on your favorite bike in a natural and archaeological park, guided by an expert guide who will tell you about the places, will assist you on the route and will assist you in any situation. Experience an unmissable emotion with this cycle-excursion riding our bikes of different types and with different configurations. Live a cycling touring experience in Salento accompanied by the best professional guides in the sector and assisted along the way by a staff who will make this experience unique and unrepeatable. With this exciting guided bike excursion we will explore Otranto, the Valley of Memories, Giurdignano with its Megalithic Garden and the Agricultural Park of the Paduli, immersed in the Giuggianello countryside, along a path rich in naturalistic, historical and archaeological elements of great value.
Price from 60,00 EUR
Discover Otranto and its Countryside by Bike
Experience an amazing bike tour across Otranto and Salento countryside. Taste some local delicacies and live authentic experiences in Puglia.After meeting your guide and small group, and being matched with a suitable bike, saddle up for a thrilling tour of the Salento Peninsula. Follow a scenic route through the Idro valley, stopping to admire landmarks such as the St. Mauro Crypt, and exploring off the beaten track along dirt trails. Continue to Casamassella and pay a visit to the Constantine Foundation, a center dedicated to organic farming and traditional weaving with old looms.Finally, bike back along the magnificent coastal road towards Otranto, stopping to see the fortified farmhouse of Cippano, the Punta Palascìa lighthouse, the easternmost point of Italy, and a peculiar lake in a disused bauxite quarry.Return to Otranto in the late afternoon.
Price from 64,05 EUR
Cycling Across Salento: Capo di Leuca 4-Hour Bike Tour
Capo di Leuca, located at the end of Puglia region, is an area of Salento made of numerous small and fascinating villages.With this bike tour you will cycle along secondary streets that link these villages, and discover some hidden treasures, like the defence tower of Salignano, the funeral monument Centopietre in Patù, the medieval hamlet of Giuliano and the Sanctuary of Leuca Piccola in Barbarano. This is an easy ride (approx. 15km), suitable for all skills level.
Price from 82,06 EUR