Tours & activities in Lucerne
---
Results: 7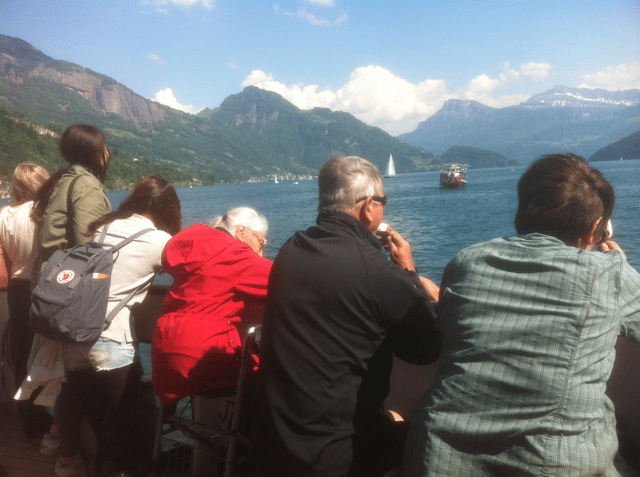 Swiss Army Knife Valley Bike Tour and Lake Lucerne Cruise
Spend a day exploring the countryside of Switzerland on a full-day tour. Take an E-Bike ride to Brunnen to learn about the legend of William Tell at Hohle Gasse. Stop by the Swiss Army Knife Visitors Center and end with a boat ride across Lake Lucerne.
Price from 393,50 EUR
Lake Lucerne Peninsula e-Bike Tour
This beautiful and relaxed trail will take you along the lake shore with beautiful views of the Swiss alps around you. We travel a distance of 16 kms/10 miles on battery-assisted pedalling e-bikes which enables everyone with a "normal level of physical fitness" to enjoy this experience. This is the right activity for nature lovers and for curious travellers who want to discover more about Lucerne and why is considered the most beautiful Swiss city. On the way you will see Mount Pilatus, Mount Stanserhorn, Mount Rigi and Bürgenstock, all along the stunning Lake Lucerne!
Price from 142,29 EUR
Why TopGuide24?
Find the best activities for your holydays!
Huge variety
Quick search on different websites for the best tours and activities worldwide.
Perfection
Various filtering and sorting functions help you find the perfect experience.
Customised
Tours in small groups or privately without other guests.
Flexible
Many products can be cancelled free of charge up to 24 hours before the start.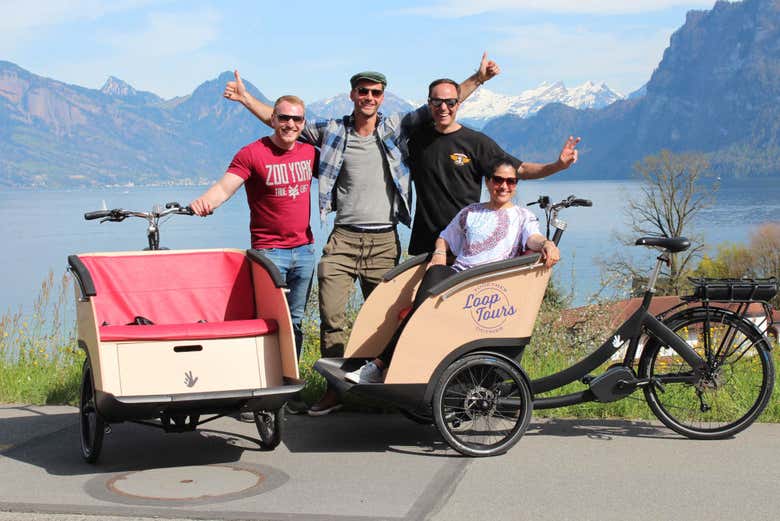 Lucerne Electric Cargo Bike Tour
Discover the charm of Lucerne with this electric bicycle tour, an ecological and super easy way of getting around, perfect for getting to know the Swiss city.
Price from 92,30 EUR
Lucerne Bike and Walk City Tour
Discover Lucerne on a bike and walking tour guided by local guide Ralf. See the Chapel Bridge, St. Peter's Chapel, Zur Gilgen House, the Town Hall, Wine Market and Stag Square, the Mill Bridge, the Ritter Palace, the Lion Monument and the Musegg Wall and Towers. Pull the most out this unique city tour by combining biking and walking. • Explore Lucerne on a combined 2,5 hours bike and walking tour • Ride your bike on special bike paths and streets in and around the historical center. • Discover the heart of Old Lucerne on foot and see the all the must have seen attractions • Feel like a local and explore Lucerne on a bike 
Price from 323,84 EUR
Swiss Knife Valley Bike Tour & Lake Lucerne Cruise
A combination of exercise and relaxation for a perfect day, a 3-4 hour, 40 km/24 mile ride using a power-assisted electric bikes that most people of normal physical fitness and stamina can do, combined with a scenic 2-hour lake cruise back to Lucerne. Ride along mostly off-road paths and trails on a ridge overlooking the lake and surrounding mountains, through beautiful countryside, green forest, and neatly cultivated farmland. Walk in William Tell's footsteps at the Hohle Gasse and learn more about Switzerland's great hero and his enduring significance today. As you wander on back-roads to Brunnen you can stop by at the the Swiss Knife Valley Center and Retail Store and vitsit their interesting pocket knife museum or watch how the iconic Swiss army knife is assembled.  Note: minimum age to ride an E-Bike is 16 years.
Price from 441,60 EUR
Hidden Secrets by Electric Cargo Bike
Hop on board the only electric cargo bike tour in Switzerland! A unique and fun way to explore areas of Lucerne often missed by the tourists. While you cruise outside the city limits, taking in the breathtaking scenery that the country is famous for, you'll get an insider's view of the local way of life. On this small-group tour, you're ensured a familiar and relaxed atmosphere, giving you time to interact with the guide and ask any questions about the people and the culture. This is the perfect tour for everyone, including families with younger kids, and we are proud to say it's one of the best things to do in Lucerne.
Price from 97,15 EUR
4 Lakes Bike Tour Adventure
Enjoy the famous golden pass line in his full beauty in a less touristic way. This fantastic tour is a combination of the well-known train ride and a bike tour in the heart of Switzerland. We will take the Lucerne-Interlaken express up to his highest point, the Brunig pass. Along the cogwheel line we bike back along the turquoise lake of Lungern, the lake of Sarnen, the swan lake Wichel, until we finally reach lake Lucerne. It's a beautiful journey. Come long and enjoy your time!
Price from 513,32 EUR