Tours & activities in Santa Fe
---
Results: 8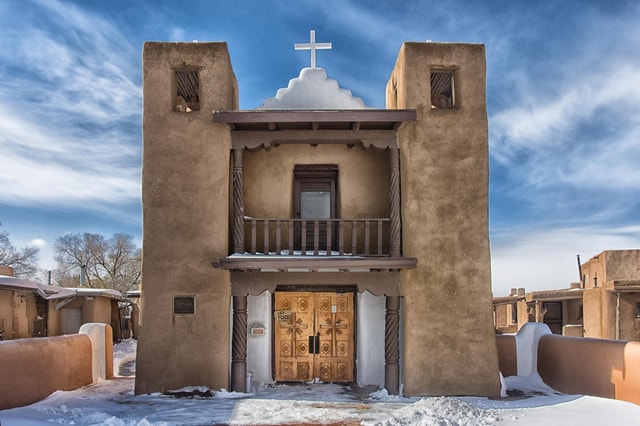 Santa Fe: Architectural Walking Tour & Wine Tasting
Walk through Santa Fe's historic Eastside neighborhood and explore the distinctive architecture the region is known for.
Price from 111,24 EUR
Santa Fe History Guided Walking Tour
The Santa Fe VIP leads you through four centuries of Santa Fe history in a one and a half mile walk around the city to help get your 2,000 steps in and get acclimated to the 7,000 ft elevation. Visit most important sights from the plaza area to the historic Barrio de Analco, historic churches, homes and architecture. Get information on not just the sights but lunch and dinner suggestions and points of interest to the surrounding areas to hike, see and experiences.This tour is so much more than just history of each location. Stories include pop culture and other interesting facts of Santa Fe and the surrounding area.Make sure to visit our website for a calendar of events for Santa Fe and the surrounding areas, including food, hikes and other fun things to do while visiting Santa Fe and northern New Mexico!
Price from 54,00 EUR
Why TopGuide24?
Find the best activities for your holydays!
Huge variety
Quick search on different websites for the best tours and activities worldwide.
Perfection
Various filtering and sorting functions help you find the perfect experience.
Customised
Tours in small groups or privately without other guests.
Flexible
Many products can be cancelled free of charge up to 24 hours before the start.
Santa Fe Walking Tour with Private Guide and Tickets to Georgia O'Keeffe Museum
Who doesn't love a tour of Santa Fe?! This Private Walking Tour also includes entrance to the Georgia O'Keeffe Museum which is where you'll finish your tour so you can explore at your leisure and learn about this important American artist.Its unique history and adobe structures in the historic district makes it a unique city to visit and evokes curiosity about how trade was preserved. Santa Fe is not only famous for its vibrant art, turquoise, black beans and tacos but also for its stunning desert backdrop and breathtaking sunsets.During your private walking tour your guide will lead you through the history of New Mexico and its binding relationship with Mexico. You'll see some of the beautiful craftwork during your tour including tapestries, paintings, photography and jewellery and it will become obvious as to why artists love this city so much.
Price from 166,49 EUR
Santa Fe Architectural Walking Tour
Explore the architecture of Santa Fe with your local guide on this 3-hour walking tour with up to 8 people. Spend your Thursday or Friday morning walking Santa Fe's historic eastside neighborhood, exploring the distinctive architecture, and enjoying the warm interiors this region is known for. Discover three different style of architecture, including Pueblo, Spanish Territorial, and Northern New Mexico. Our walk is 2-2.5 miles in duration throughout historic Santa Fe. We end our tour at Gruet Tasting Room inside of Hotel St. Francis. 
Price from 103,50 EUR
The Best of Santa Fe Walking Tour
Together with the professional guide, you will visit the most charming places in the city. Did you know that Santa Fe has Oldest Church in the United States? Or is it true that the State nickname is Land of Enchantment? You will have a chance to explore the city, while hearing fascinating facts and legends. Summer in Santa Fe is art market season. You will be surprised how many stories are hidden in the streets, buildings and corners of Santa Fe. Your charming guide will tell you what is special and unique about living in this city. Perfect for those who are visiting the city for the first time and want to get the most of it!
Price from 109,50 EUR
History Tour of Madrid: The Town Too High To Die Walking Audio Tour
Madrid produced the coal that both built the Bomb and inspired Walt Disney. Abandoned as a ghost town for many years, it was reborn as a thriving artistic community. The Oral History Tour lets you hear Madrid's stories, as told by the people who lived them. Using smartphone technology, it plays the audio automatically, at exactly the right time and place.All dimensions of Madrid's peculiar, multifaceted story are explored: from an eyewitness account of union-busting violence, to that time the brand-new fire engine accidentally burned down the firehouse. The Oral History Tour was distilled from seventy hours of interviews, and endures as a preserved collective memory of this unique New Mexican treasure.Of this two-hour tour, The Santa Fe Reporter wrote, "It's a deep dive into the fascinating history of the little town. You'll find interviews with locals, some of whom have lived in Madrid their whole lives, and a narrator with a soothing voice ... it works exceedingly well."
Price from 4,62 EUR
WATCHMEN Catholic Pilgrimages Professional Guides Walking Tours 5+ Day 3+ Group
Catholic Faith Travel Network Pilgrimage Sites Worldwide Any Tour Dates At Your Budget 5+ Days Small Group 4+ Senior Friendly NO Non-Refundable Deposit FREE Travel Medical Insurance.Guadalupe,Fatima,Santarem,Assisi,Avila,Rome,Holy-Land,Chartres,Walsingham,Knock,La-Salette,San-Giovanni-Rotondo,Loyola,Lourdes,Santiago-de-Compostela,Montserrat,Garabandal,Camino-de-Santiago,Krakow,Aix-en-Provence,Lindisfarne,Salzburg,Jerusalem,Paris,…Worldwide guided walking tours by certified local expert professional guides & various small group quality verified sightseeing tours of all major tourist attractions: UNESCO Heritage, historical, architectural, imperial, medieval, cultural, spiritual, educational & hidden gems. Enjoy city's art, music, food, wine, beer, photo-shoot, etc.Visit famous landmarks every tourist wants to see. Also visit non-touristy sections of the city, the areas most tourists don't see, such as the cobblestone alleys, the vineyard, local culture and where locals patronize.
Price from 311,53 EUR
Participate in a Fun Scavenger Hunt in Santa Fe by Wacky Walks
Wacky Walks of Santa Fe is a great way to see the city in a fun way! You'll use an app on your phone to submit photos of items you find around the city. For every photo you submit, you'll get points. You'll be able to see your score on the rankings after compared to all who have played across the country. All our Scavenger hunts have a live remote host to help along the way. Come out and explore with us in Santa Fe.
Price from 9,00 EUR