Tours & activities in Dublin
---
Results: 11
'Dublin Pubs Bucket List' - 4hr 'Best of the Best' Dublin pubs private tour.
You are in Dublin for a good time. . not a long time! Let's cram in as many of the best Dublin bars that we can on a 4 hour private tour. Stops will be customised to what suits you! we can go anywhere and I know everywhere! Whether its old Victorian pubs, Irish whiskey bars, crazy cocktails, secret speak-easys, the best Guinness in Dublin, real locals bars or the very best traditional Irish music & dancing.I drive you around and take care of you in a customized selection, curated just for you + a little Irish history & music as we drive from stop to stop.I know Dublin and Dublin knows me. . you will feel the culture of our Dublin pubs and do what we do. Along the way there will be some passing by historical sights and the pubs themselves are the spirit of Dublin, buzzing with the chatter of locals, the sound of laughter and many a great singer and a fiddle or 3.See you in Dublin!Eamonn.
Price from 422,77 EUR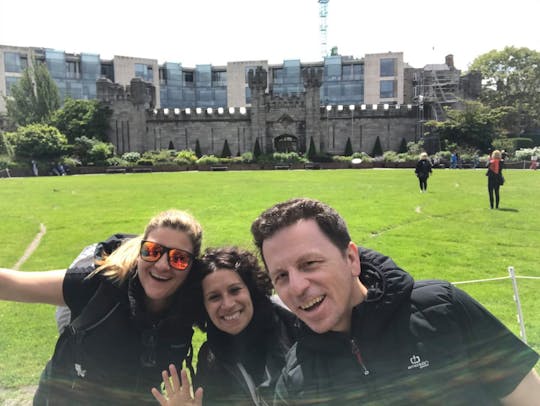 Dublin private custom tour with a local - See the city unscripted
Explore Dublin with a local guide and see the highlights of the city, hidden treasures and personalize the tour to your wishes and interests.
Price from 125,00 EUR
Tour available in:
English
Why TopGuide24?
Find the best activities for your holydays!
Huge variety
Quick search on different websites for the best tours and activities worldwide.
Perfection
Various filtering and sorting functions help you find the perfect experience.
Customised
Tours in small groups or privately without other guests.
Flexible
Many products can be cancelled free of charge up to 24 hours before the start.
Old Kilkenny Castle & City private tour - History, Irish music & pubs experience
My Kilkenny Experience private tour is uniquely designed to give guests a pleasant day trip from Dublin with an emphasis on attractions and activities and not unreasonable long hours in the vehicle.With a dynamic mix of attractions in Kilkenny including the best restored old castle in Ireland as well as a 1000 year old round tower you can climb and cathedral, you will also capture some amazing photos during our day.You will also receive a collection of high quality 40MP photos taken by myself as i snap away so you can just enjoy the sights.Also for beer fans we can opt to do a tour of the Smithwicks Brewery in kilkenny instead of one of the stated itinerary. If it can be done, we will do it!Usual ChaperoneVIP Private Tours 4 pillars of a great tour apply here too - History - Music - the Craic (fun) - beerPlenty of Irish stories and music throughout they day too!Hope to see you in Ireland soon.ÉamonnChaperoneVIP Private Tours.
Price from 685,00 EUR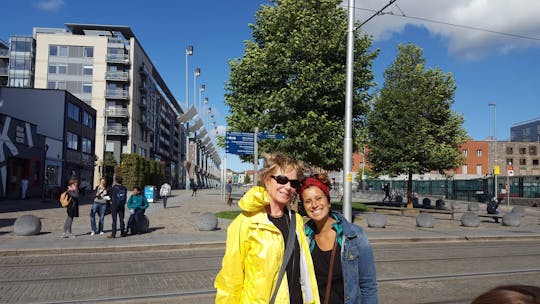 Kickstart your trip to Dublin with a local - private and personalized 2-hour tour
Receive a warm welcome to Dublin and join a local guide around the cities must-see attractions and hidden treasures.
Price from 69,00 EUR
Tour available in:
English
8hr Custom private tour of Dublin - History, Music, Craic, Pints!
Use the vast and varied itinerary options that I have provided as inspiration for you to make your customised private tour in Dublin the very best it can be!Whether its history, Irish music, craic (Irish for fun) or pints in classic Dublin Guinness pubs, Dublin bay scenery or even just some relaxed sightseeing and to be accompanied around Dublin and taken care of. . I can do it all.Let me know what your interests are and I'll take it from there and you just relax and enjoy Dublin or of course just leave it all the me and I will give you a high quality, bespoke private tour experience in Dublin and we will have fun along the way.It will be my pleasure to show you my city.See you in Dublin,Eamonn.
Price from 640,00 EUR
A day in Wicklow with a private guide! Scenery, history, & hiking (if you want!)
This is a tour of Wicklow, given by someone who grew up here and loves it. The tour described is an outline of what we might do, but we have plenty of options. I can suggest other places to visit on our day, and can incorporate other site visits, within reason. I am a Driver/Guide so we have a car, have a guide, and can do what we like!! Sometimes I bring people to some of the lesser known spots - old bridges by dark rivers, or up a favourite mountain, or to a beautiful garden. Occasionally, I bring visitors to my family farm, where my father and brother enjoy meeting visitors, and showing them over the farm. This is a 300 year old farm house which has been in the family for 8 generations and sheep, cattle and poultry are kept. You will be expected to chat with the family and tell them where you are from too!
Price from 430,45 EUR
Howth Craft Beer and Seafood Tour for private groups
What better way to spend an afternoon than eating the best locally-caught seafood in Ireland, washed down with local craft beer, guided by a passionate Local and his dog?• Enjoy a variety of local specialties made with fresh seafood• Local craft beer, wine, and cider are included• Meander through an ancient coastal fishing village, meet local fishermen, and stop at Mark's favourite locations to taste the best that Howth has to offer• Mark is a foodie who loves the Irish way of life, is an Irish music aficionado, and Howth's official ambassador for your walk through history and culture• This experience is bookable as a private event only
Price from 107,44 EUR
Dublin city throug the ages full day private tour
We can definitely name Dublin as one of the top cities in the world to visit. Dublin is Ireland's capital and largest city, offering an endless number of museums, attractions, and entertainment options. We have included in this tour all the main highlights of the city - so if you have only one day - we recommend to book this tour and enjoy this amazing city.Your guide will pick you up at the reception of your hotel or from your cruise ship.You will have a sightseeing tour both walking and driving with photo stops.The main attractions you will see are Dublin Castle, St. Patrick's Cathedral, Guinness Brewery, Georgian Dublin, Trinity College.During the day you will have time to have a lunch – your guide will suggest you the best options.At the end of the tour, the driver will take you back to the place you are staying.
Price from 2013,32 EUR
Authentic Cambodian Supper Club for private groups
Host Veasna is a talented Cambodian chef with a passion for real food and powerful flavours. He invites you to his home in the heart of Dublin to treat your taste buds to the true flavours of his home country, with a cuisine that's rich in balanced flavours. Veasna is the only Cambodian chef you will find in Ireland so this is a unique opportunity.What to expect:• Cambodian food tends to be served family-style, so you'll enjoy a selection of freshly prepared dishes alongside real (award-winning!) Cambodian rice, made using the best, locally-sourced produce (plus some extra little treats!)• Dine in a cosy historic house in a quaint alley off Camden Street• Outdoor dining available (weather dependant)• We can cater to Vegetarians and most dietary restrictions - please just let us know with plenty of notice• Veasna co-hosts with his partner Niall
Price from 100,00 EUR
Scenic Wicklow countryside & Whiskey tasting private tour
The absolute best and extremely luxurious whiskey tour and tasting combined with a slice of Dublin bay history & scenery and the rolling green glens of beautiful county Wicklow, the garden of Ireland.Great Irish food, traditional Irish music as we drive, making memories for you.The highest pub in Dublin, The Guinness lake, the secret rebel HQ bar hidden in the valley and a birds eye view of Dublin. .What a combination.My 4 pillars of every tour of History - Music - The craic (fun) - Guinness (or beers)When you book this tour it will always be presented by myself. ÉamonnChaperoneVIP Private Tours.
Price from 645,00 EUR
Secrets of Dublin private walking tour
The best way to discover the charming city of Dublin is a guided walk through the best sights a friendly local expert. To stroll through the hidden streets, to see the things which are mot mentioned in the popular guide websites and could not be found in guidebooks. To listen to the history of the city, legends, and secrets, to drink a coffee in the oldest pub in the city. Are you expressed? We are!Your guide will pick you up in your hotel or from your cruise ship.You will start your tour from historic O Connell Street and explore all the city throughout the city both Northside and Southside stopping off at key locations along the way.During your way, you will have a coffee stop to have a little rest and listen to another amazing story.At the end of the tour, your guide will help you to call a taxi back or suggest the place to have the best dinner in the city and leave you at that place.
Price from 355,24 EUR