Tours & activities in Ravenna
---
Results: 7
Ravenna: private full-day tour with mosaics admission
On this private tour of Ravenna your guide will show you the most important treasures of the city that features 8 UNESCO World Heritage Sites. You'll explore some of its most important sites and admire the stunning mosaics all around you. The tour will take place for about 2.5-hour in the morning, then you can enjoy a lunch (independently), after which you'll meet your guide again and continue the tour for another 2 to 2.5 hours.  You will see the five main mosaics site in town, such as: the Basilica of San Vitale, the Mausoleum of Galla Placidia, the Battistero Neoniano, the Arcivescovile Museum and the Basilica of Sant'Apollinare Nuovo. Your guide will then take you to the picturesque Piazza del Popolo. You'll also explore the Dante area, or Area of Silence and get to see Dante's tomb. In fact, the famous exiled Florentine poet died in Ravenna on 13 September 1321. You'll see also Piazza San Francesco and the beautiful Basilica of San Francesco.
Price from 177,50 EUR
Ravenna private tour with entrance to monuments
Enjoy a 3-hour private tour of Ravenna: get insights from your expert local guide and admire its stunning mosaics!
Price from 73,00 EUR
Tour available in:
English
Italian
French
Spanish
German
Why TopGuide24?
Find the best activities for your holydays!
Huge variety
Quick search on different websites for the best tours and activities worldwide.
Perfection
Various filtering and sorting functions help you find the perfect experience.
Customised
Tours in small groups or privately without other guests.
Flexible
Many products can be cancelled free of charge up to 24 hours before the start.
Ravenna Mosaics and Art - Half day private guided tour
Even just a half day visit is enough to enjoy the best of what the astonishing city of Ravenna has to offer. Discover the Early-Christian and Byzantine mosaics of the 5th and 6th centuries and you will be fascinated!
Price from 110,00 EUR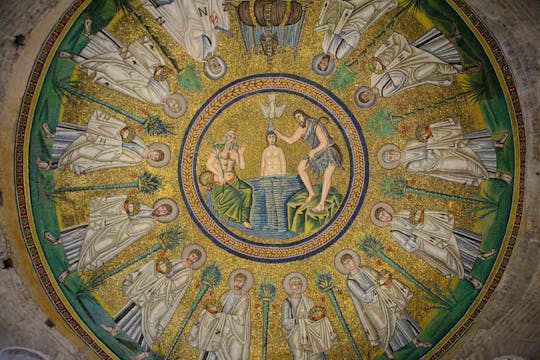 Full-day private tour of Ravenna with mosaics admission
On this full-day walking tour you'll explore the city of Ravenna, known for its well-preserved late Roman and Byzantine architecture and for its eight UNESCO World Heritage Sites! Marvel at its stunning mosaics and learn about its fascinating history.
Price from 405,00 EUR
Tour available in:
English
Italian
French
Spanish
German
Wonderful Ravenna, visit 3 UNESCO sites with a local guide on a private tour
During this Private Tour Silvia will make you discover the extraordinary history of the most important UNESCO sites in the city of Ravenna, from the fall of the Western Roman Empire to the Byzantine rule. Ravenna in the space of only 200 years was nominated capital three times and today its perfectly preserved mosaics leave us breathless, taking us back to the ancient glories of a bygone era. During this visit, immersed in the evocative half-light, you will have the opportunity to observe the majesty of the mosaics in a completely unique and special atmosphere outside of satiety and time.
Price from 130,00 EUR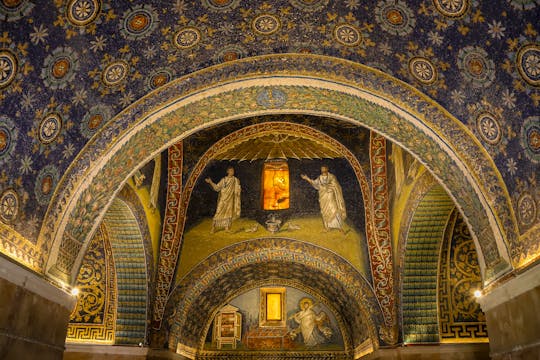 Ravenna private walking tour
Explore Ravenna's historic center with a private guide. See stunning UNESCO monuments and discover some of the best-preserved mosaics in the world.
Price from 120,00 EUR
Tour available in:
English
Italian
German
Basilica of Sant'Apollinare in Classe: private tour near Ravenna
This 1-hour private tour of the Basilica of Sant'Apollinare in Classe will allow you to discover one real hidden gem of Ravenna (and of the whole Italy!). Sant'Apollinare in Classe, a UNESCO World Heritage site, has been described as the most impressive Basilica of the Early Christian period. Despite the plundering it suffered over the centuries, the basilica has preserved the splendour of its original building. It is now admired for its beautiful polychrome apse mosaics and ancient marble sarcophagi of archbishops, placed along the aisles. This impressive church rises in all its solemn grandeur at a distance of 8 kilometres from the centre of Ravenna. Commissioned by archbishop Ursicino, the church was built by Julian Argentarius during the first half of the 6th century, on an ancient burial area used in the late 2nd or early 3rd century. Apparently, Saint Apollinaris - one of the first bishops of Ravenna - was buried here.
Price from 100,00 EUR